Patterned Tile Backsplash Kitchen Ideas: A patterned tile backsplash in a kitchen can be a fantastic way to add visual interest and personality to the space. Whether you're looking for a bold and vibrant pattern or something more subtle and understated, there are countless options available to suit your taste and style.
Here are a few ideas and considerations when choosing a patterned tile backsplash for your kitchen.
Selecting the Pattern
There are numerous patterns to choose from, including geometric designs, floral motifs, Moroccan-inspired patterns, herringbone, chevron, and many more. Consider the overall style of your kitchen and the desired aesthetic. If your kitchen has a contemporary or modern design, geometric patterns might be a good fit. For a more traditional or rustic kitchen, floral or intricate patterns can work well.
Color Scheme
Choose a color scheme that complements the rest of your kitchen. You can opt for a patterned tile with multiple colors or stick to a monochromatic scheme. Consider the colors of your cabinets, countertops, and walls to ensure a cohesive look.
Tile Material
Patterned tiles come in various materials such as ceramic, porcelain, cement, glass, or natural stone. Each material has its own unique characteristics in terms of durability, maintenance, and aesthetic appeal. Consider the practicality of the material based on your kitchen's needs. For example, ceramic and porcelain tiles are durable and easy to clean, making them suitable for high-traffic areas.
Tile Size
Consider the size of the tiles and how they will fit within the overall design of your kitchen. Larger tiles can make a bold statement and require fewer grout lines, while smaller tiles can create intricate patterns and add a sense of texture. Take into account the size of your kitchen and the scale of other elements in the space to ensure a balanced look.
Placement
Decide where you want to install the patterned tile backsplash. It's common to install it between the countertop and upper cabinets, but you can also extend it to cover a larger area or create a focal point behind the stove. Consider the dimensions and layout of your kitchen to determine the best placement for the patterned tile.
Grout Color
The color of the grout can significantly impact the overall appearance of the patterned tile backsplash. You can choose a grout color that blends in with the tiles for a seamless look or opt for a contrasting color to make the pattern stand out. Keep in mind that lighter grout colors can show stains more easily, so consider the level of maintenance you're willing to undertake.
It's essential to choose a patterned tile backsplash that reflects your personal style and complements the overall design of your kitchen. Consider gathering samples or consulting with a professional designer to help you visualize the final result before making a final decision.
Related:
50 Patterned Tile Backsplash Kitchen Ideas
Halloween-themed granite countertops with a gray subway tile backsplash
PHOTO: MODERNFARMHOUSEGLAM
The granite counters in this kitchen are framed by white herringbone-patterned wallpaper, which is mounted atop a backsplash made of smooth gray subway tiles. Above a black and white counter topped cabinet with nickel fittings, stark white floating shelves decorated for Halloween hang. Range with stainless steel oven is tucked next to a cabinet.
Black and white granite countertops with a herringbone backsplash
PHOTO: GREENEACRESFARMHOUSE
In this kitchen, black and white granite worktops are paired with a white shiplap kitchen hood with dark wood trim installed over a white herringbone backsplash. Between white cabinetry with black-finished hardware, an oven ranges.
Kitchen Backsplash with White Square Tiles
Between white cabinets with gray and black countertops are white appliances with brass accents. The kitchen backsplash is made of white square tiles, and the cabinets are coupled with black knobs.
Metro Patterned Tile Backsplash Kitchen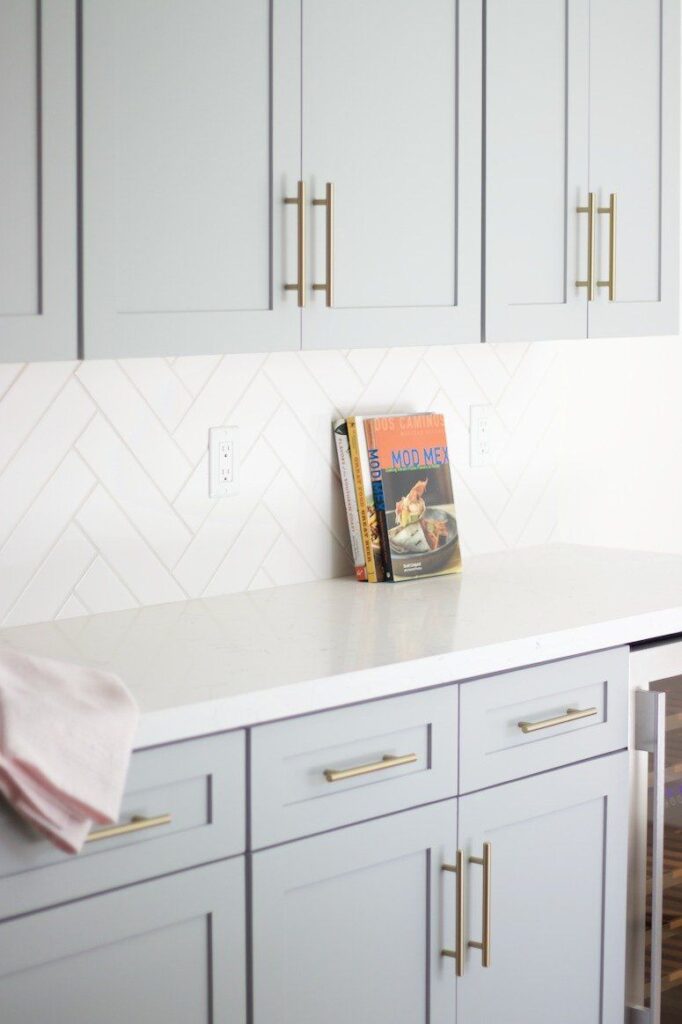 Who doesn't adore the traditional subway tile backsplash in the kitchen? These distinctive 3 ′′ by 6′′ tiles gained popularity during the Victorian era because they are stain- and dirt-resistant and were inspired by real tiles discovered in New York subway stops.
Colored tiles feel like a breath of fresh air for something less plain. As an alternative, choose elongated subway tiles and lay them vertically. Any place is elevated and made to look stylish by this design element.
Marble Patterned Tile Backsplash Kitchen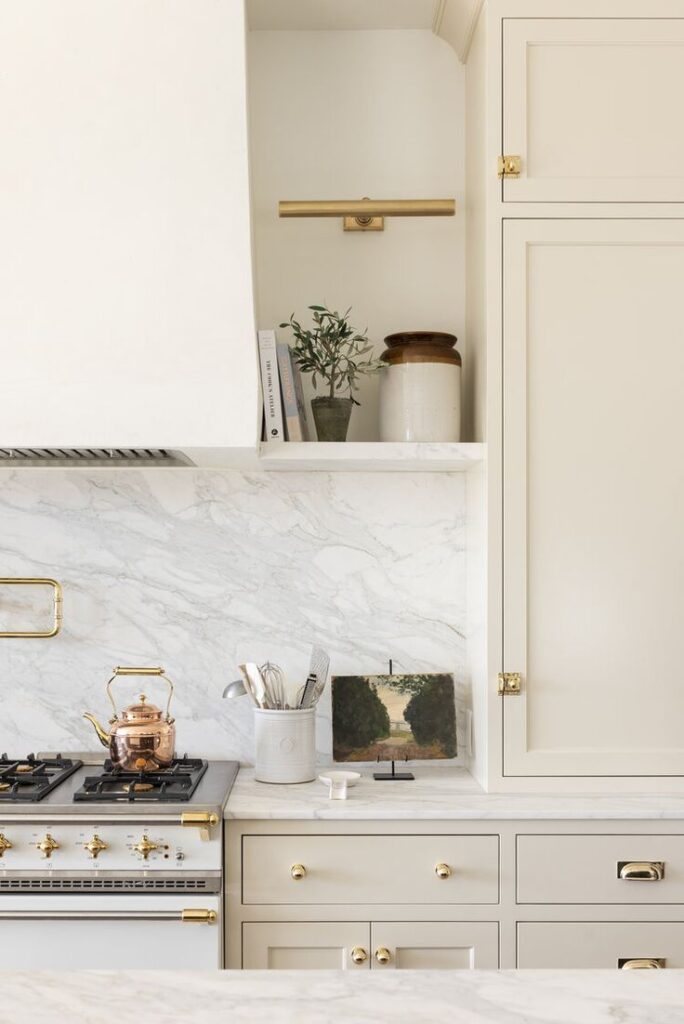 If you prefer a polished, opulent appearance, marble is a must-have. Both neutral and dark cabinet colors go nicely with a backsplash made of light marble.
On the other hand, a kitchen with only white countertops and darker-veined marble looks stunning.
Sloping tiles Patterned Tile Backsplash Kitchen
Fish-scale tiles, also known as scallop tiles, are a fun way to give your kitchen personality.
Style all-white kitchen cabinets with complementary scallop tiles for a subtle appearance. While matte tiles appear magnificent with black or dark grey grout, glossy scallop tiles look great with white grout.
Proyecto Ceramic Singular Tile, 4″ x 8″
Use these elongated tiles if you wish to replace a cluttered or antiquated design with something simple and elegant. They provide your kitchen a great sleek appearance and a stable neutral background. This kind of backsplash works well in kitchens with lots of other architectural features, including open shelving.
Castile Ceramic Wall & Floor Tile, 13″ x 13″
Although rustic Tuscan-style kitchens are less common these days, everything comes full circle.
Choose a ceramic tile like the one below if you really enjoy that style and intend to stay in your home for a while.
It features a nice, somewhat tarnished engraved pattern. If you prefer the rustic style, this is a terrific idea for a kitchen backsplash.
Quality 3″ x 6″ Glass Mosaic Subway Tile with Hand Painting
Recently, gray has been a very trendy color in the kitchen, and this stunning glass mosaic subway tile is completely current.
While the decor in the kitchen below is tone-on-tone, this gray tile can also be used to create a striking contrast.
Your kitchen will stand out and draw attention if you pair it with lighter or darker grout.
Ceramic field tiles from Avaricon
Create an accent wall in your kitchen with elaborate tiles like the Avaricon Ceramic Field Tile seen below. It looks much more dramatic and elegant because the pattern behind the wall-mounted hood rises all the way to the ceiling.
Granite countertops with gray diagonal tile backsplash
PHOTO: DECOR_DESIGN_TILELIQUIDATORS
In this kitchen, gray diagonal tile backsplash surrounds white cabinets with brown and black granite worktops. Open shelves and nickel hardware are seen in the cabinets. Two black wood dining chairs are paired with an ivory wood table that is placed on a white tile floor. White-framed windows are complemented by natural woven blinds.
Granite countertops with a busy backsplash of gray tile
PHOTO: APIECEOFMYHAVEN
This kitchen has gray and white granite worktops with ivory cabinets installed on a gray diagonal square tile backsplash. Over the kitchen island, three black barstools with no backs and ivory upholstery swing from caged black candlestick lamps. The kitchen floor is tiled in gray.
Busy Granite Patterned Tile Backsplash Kitchen
PHOTO: FARMHOUSETOFRILLS
In this kitchen, the busy granite worktops are offset by crisp white cabinets with square black hardware installed on them. Over the double sink, a large wooden sign and seasonal wreaths are hung. On the light wood floor is a rug with black and white stripes.
Rustic Cabinet, Marble Backsplash, and White Subway Tile Backsplash
PHOTO: FARMHOUSEFOR8
A white cabinet mounted on a backsplash made of white subway tiles can be seen in this kitchen. a rustic kitchen cabinet with a black and white granite countertop and a white apron farmhouse sink. The white-framed window in the kitchen provides light.
Natural Stone/Metal Wall and Floor Mosaic Tile, Karats White Hexagon
Make sure to click the link so you can view this tile in greater detail on the sales page. It's quite lovely. In this image, what looks like dark grout is actually a gorgeous shiny brass trim that surrounds each hexagonal form. Without a doubt, this backsplash will give your kitchen a chic and classy appeal.
Natural Stone/Metal Dreamcicle White Chevron Wall and Floor Mosaic Tile
You ought to examine this tile more closely as well. This tile has beautiful detailing and looks equally stunning on the floor as it does on the walls.
Polished Marble Mesh-Mounted Mosaic Tile by Georama
An intriguing design is made with the Georama Nero Mosaic Tile. This tile is at the top of my list of suggestions for a modern or minimalist kitchen backsplash.
Although modern home designs typically favor solid colors over patterns, I believe a backsplash like this would look good.
You can still get the modern style while giving it a welcoming warmth by adding just a minor pattern variation like this and keeping the rest of your cabinetry and worktops solid.
Ceramic Mosaic Floor and Wall Tile in Rio Mesa Desert Sand
And although grays and blues have become more trendy in the last five years, beige and brown are beginning to regain popularity.
This is due to the universal appeal of tranquil earth tones. This laundry room is made much more interesting by the pattern this tile makes, and the colors make the space feel wonderfully cozy and welcoming.
Elongated Octagon Polished Marble Mesh-Mounted Mosaic Tile in Valencia Blend
This backsplash is quite interesting to look at thanks to these particulars. It has a subtle, modern feel, and the marble's veining gives it a truly upscale appearance
23 Best Pinterest Organization Ideas For Your Small Kitchen
Suggestions for Granite Countertops with a Busy Backsplash
PHOTO: CASA.ARANTES.STYLE
This kitchen features black and white granite worktops with gray cabinets with nickel hardware installed on a white subway tile backsplash. On the countertop are a cake stand organizer and a crock for kitchenware. On the handle of the gray cabinet next to the oven range is a linen dishcloth.
White Hex Tile Over Stove Behind Cooktop
PHOTO: ARCHERHILLCOTTAGEAZ
Behind a cooktop stove, a hex tile backsplash has been built, and a wonderful old sign is sitting on the tile. This kitchen, which has small potted plants on the countertop, is lit by white shutters. Cutting boards made of wood enhance this area.
White Cabinetry with Open Shelves and a Backsplash of Smooth Subway Tile
PHOTO: HOUSE.BECOMES.HOME
This kitchen's busy gray and white granite counters contrast beautifully with the smooth white subway tile backsplash. Brass hardware can be seen on the open shelves of white cabinets. Over a gas range is a stainless steel kitchen hood that has a kettle and flowers in vases. On the light wood floor is a rug with a gray design.
Granite countertops and a gray honeycomb backsplash in a kitchen decorated for harvest
PHOTO: CHRISTINESTARFISH
This kitchen features black and white granite worktops with a single-basin sink and faucet, as well as white cabinets mounted on a light gray honeycomb backsplash. Over the window with the white frame is a festive wreath.
White flowers on a granite countertop in the kitchen, with a coordinating backsplash.
PHOTO: A.FIREMANS.WIFE
Granite countertops and a black and white backsplash are featured in this kitchen. Above the gas burner, a stainless steel microwave is concealed by white cabinets with black fittings. On the counter is a porcelain pitcher filled with a variety of white flowers.
Backsplash in Brown and Black for Busy Granite
PHOTO: BLOSSOMINGINTERIORS
35 Utensils Every Woman Needs In Her Kitchen
The granite countertops in this kitchen are illuminated by a black lantern candlestick-style pendant, which is positioned above bright white cabinets with a brown and black backsplash. The island is furnished with a white double basin sink and a black faucet, and the chair is upholstered in linen with light wood accents. On the white tiled floor was a light gray patterned rug.
Misha Porcelain Patterned Wall & Floor Tile, 9″ x 10″
MSI Smooth Marble Visual 12″ × 12″ Herringbone Mosaic Wall Tile
Another one of my favorites is this. The tile has a stunningly intricate overlapping texture.
Right now, woven, natural components in the home are really hot, and this marble backsplash style is ideal in that regard.
30 Outdoor Kitchen Ideas on a Moderate Budget
White Cabinets Installed Above Granite Countertops and a Subway Tile Backsplash
PHOTO: CINDYCLARKINTERIORS
White cabinets with open storage, brass-mounted hardware, and a backsplash made of white subway tile are featured in this kitchen. With a variety of wood cutting boards and transparent glass jars, the gas stove is tucked behind the ivory and black marble countertop. On the wood floor is a rug with a brown print. Accentuating the kitchen is a light-wood side table with plants and artwork.
Granite countertops and subway tile backsplash in a black and white kitchen
PHOTO: BEAR_CREEK_FARMHOUSE
White cabinets with black square hardware are displayed in this kitchen's backsplash made of white subway tiles. Over a stainless steel double apron basin sink with faucet and a black and white granite countertop, black warehouse scones swing from the ceiling. A leather-seated barstool accents the island. A geometric rug in gray and white is placed on a rustic wood floor.
Kitchen with Pearl White Granite Countertops and Subway Tile
PHOTO: BEIGEWHITEGRAY
The stainless steel pot filler mounted on the white subway tile backsplash over the gas range is displayed in this kitchen's white cabinets with nickel hardware. On a pearl-white granite countertop, various cutting boards and nesting wooden bowls are arranged.
Farmhouse Design with Subway Tile Backsplash for Busy Granite Countertops
PHOTO: FOSTERMOMFARMHOUSE
The backsplash in this kitchen is a pure white subway tile, and the cabinets and dark hardwood floors go well together. Black warehouse scones illuminate cabinets with black and white granite countertops. A collection of farmhouse-style decor is curated on an island-mounted utensil rail. A microwave made of black and stainless steel is hidden between cupboards above a stove with a matching oven.
Beige and Brown Granite Countertops with a Subway Tile Backsplash
PHOTO: BEYDINDESIGN
The backsplash in this kitchen is a striking white subway tile, and the cabinetry is complimentary. The countertops of the cabinets are beige and brown granite, with a black faucet and a single stainless steel basin sink next to a stainless steel dishwasher. On the beige tile floor, a black pendant lamp illuminated a boho rug with black stripes and tassels.
Related: How to Clean Kitchen Sink Faster Like a Pro (Rust & Grease)