No matter what your plans for grilling are, you can discover the ideal outdoor kitchen Ideas for the summer season. Many of these kitchens can be constructed within a weekend or even less.
Just like assembling a portable picnic stove, you can create a charming compact outdoor kitchen in just a couple of hours! These plans include a gas grill, a rinsing sink, and a mini-fridge, all of which can be tailored to your specific preferences.
There will be both a cost and a time commitment associated with these projects. The advantage is that they are generally more affordable to do it yourself (DIY) rather than purchasing them, and some can even be built using reclaimed wood and other materials, further reducing the cost.
As you know, I've always desired an outdoor kitchen. If you enjoy hosting gatherings outdoors during the warmer months, then a casual outdoor kitchen would be perfect for parties and intimate family dinners. Undoubtedly, hiring a professional to construct an outdoor kitchen can be quite expensive.
To discover an exciting DIY project, I began scouring the internet for captivating ideas for my outdoor kitchen. I stumbled upon 30 incredibly awesome DIY outdoor kitchen plans that can be built by yourself in just a few days. While some of these plans may require a small investment, they are generally much cheaper than hiring a professional to build them for you.
Related:
Your deck can be designed to include a lovely outdoor kitchen, complete with all the necessary cooking and serving equipment. You may, of course, pick and select what you include as well as the type of finish you like, such as cast iron or stainless steel. Even if you don't have a deck, you may still construct a little patio area with this project.
If you want to repurpose some old kitchen cabinets for your outdoor kitchen, you can check in thrift shops or salvage yards.
Just redo those and place them in your outdoor cooking area after finishing the operation. Some additional concrete or stone pieces to spruce up these places would make them look much better.
This is an excellent method for building an outdoor kitchen fast and affordably, and it only takes a few days to complete.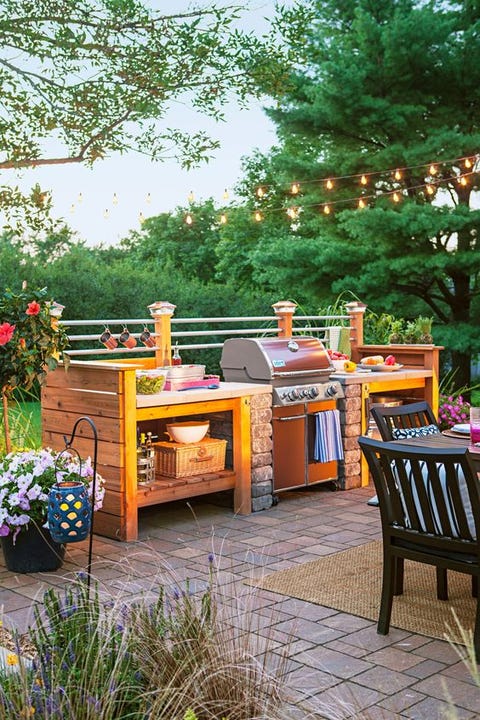 Trying to achieve something? You may build your own outdoor kitchen using stacked stones and a do-it-yourself wood structure rather than spending a lot of money on one.
Infuse classic with modern and drive a new style to outdoor kitchen styling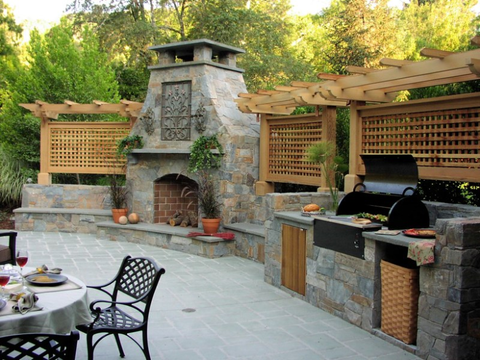 We are completely charmed as we take in this wonderful location with its chic stone fireplace and grill station. Pergolas made of painted wood have a distinct hue and a higher level of privacy.
Provide a cooking area, a prep area, and a serving area; also, give shelving for kitchenware and garbage and recycling containers to facilitate cleanup. If you want to cook outside, you should first consider the meals you want to prepare and the cooking method you want to use.
Next, search for a grill that has the right amount of burners, worktops, and storage spaces.
Would you wish to utilize your outdoor kitchen more often? This project's requirements include having an outdoor kitchen bar with stools and a roof that protects chefs and guests from the elements and intense heat.
The structure includes these features in addition to others like running water, under-counter refrigerators, and wood-burning ovens.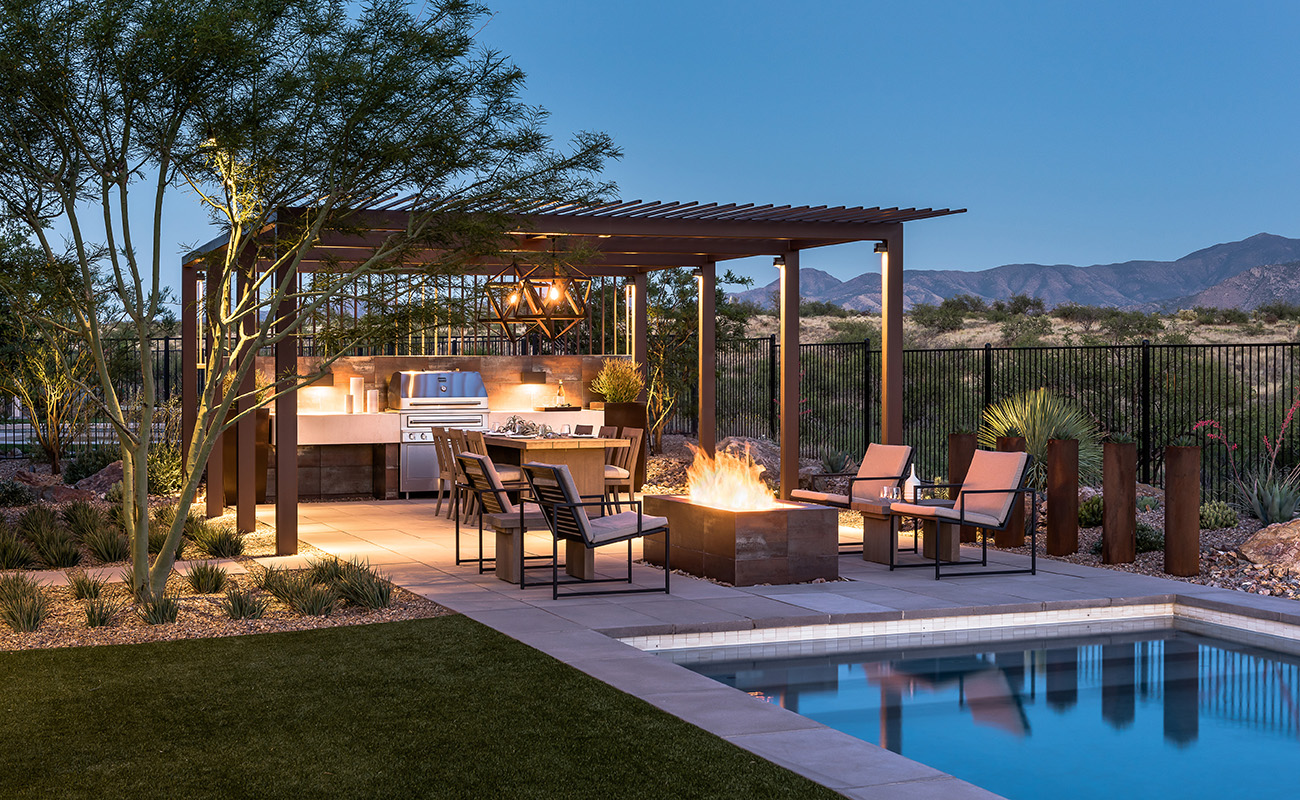 The design was centered on accomplishing all of the space's practical needs, from the grass for the dog to the pool and outdoor kitchen, in a simple, minimalist manner that flowed from inside to out.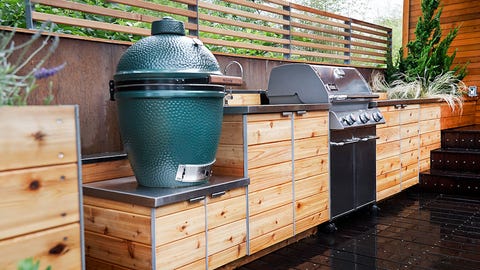 These contemporary, elegant outdoor kitchen designs have stainless steel worktops and cedar cabinetry. To give her herb garden a lush and natural appearance, she employs herbs like lavender, yucca, and juniper.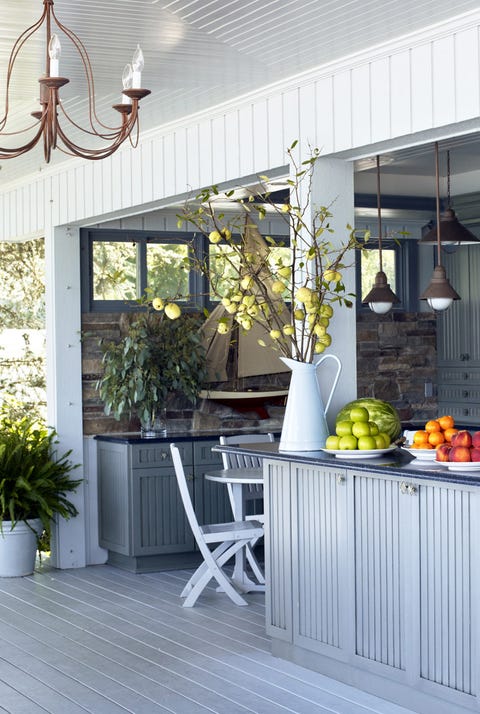 If you decide to spend the summer living outside, your outside space should be as welcoming as possible. If you live near water, a calming blue color like the one above is perfect for a nautical design.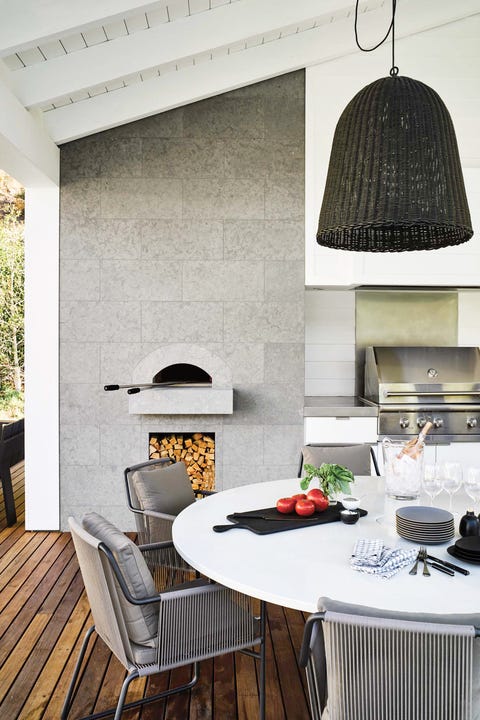 The outdoor kitchen area satisfies the three key design tenets of fashion, utility, and timelessness. It serves as a lesson on how to balance style and use case while minimizing clutter.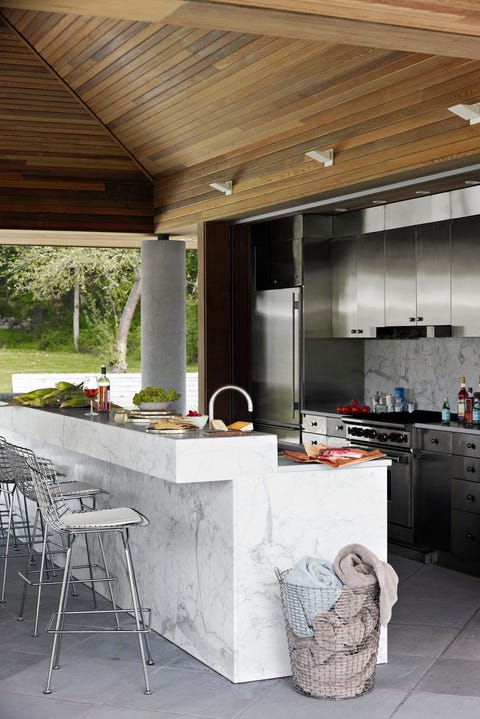 This outdoor kitchen's stained oak ceiling accentuates the warmth of the stainless steel cabinetry. And what's the finest part? A metal fence that drops down keeps out rain and other factors that could harm appliances. For a more upscale appearance, add a marble island and backsplash.