Be creatively classy in your living space with the perfect blend of modern sophistication and timeless class. In this curated collection, we present "80 Modern & Classy Closet Design Ideas" to inspire your inner interior designer.
These styles effortlessly blend modern aesthetics with the timeless elegance of traditional designs, providing a plethora of possibilities to transform your closet into a room that not only fulfills its functional purpose but also acts as a monument to your sophisticated taste.
Explore this idea collection to find creative storage options, opulent finishes, and elegant layouts that can improve your daily routine and add a touch of grandeur to your house.
There is a closet design here to suit every style and inclination, ensuring that your space reflects your particular sense of contemporary sophistication and timeless luxury. Whether you choose sleek minimalism or lavish grandeur.
Related: 100+ Modern Master Bedroom Ideas
Modern & Classy Closet Design Ideas
Closets are no longer just functional storage spaces; they are an extension of your home's aesthetic. These designs seamlessly combine contemporary aesthetics with the enduring elegance of classic styles, offering a wide array of options to transform your closet into a space that not only serves its practical purpose but also stands as a testament to your refined taste.
With its darkly polished cabinetry and carpeted flooring, this contemporary closet exudes elegance. A hardwood countertop is used on the center island.
Reach-In Closet & Wardrobe
---
---
---
---
---
---
---
---
Floating Shelves
The possibilities are endless when it comes to coming up with one-of-a-kind and inventive ways to store clothing, shoes, and accessories, whether you choose wire drawers in an open-connected closet or closed-door cabinets with plenty of storage. The best part is that these customized features won't break the bank.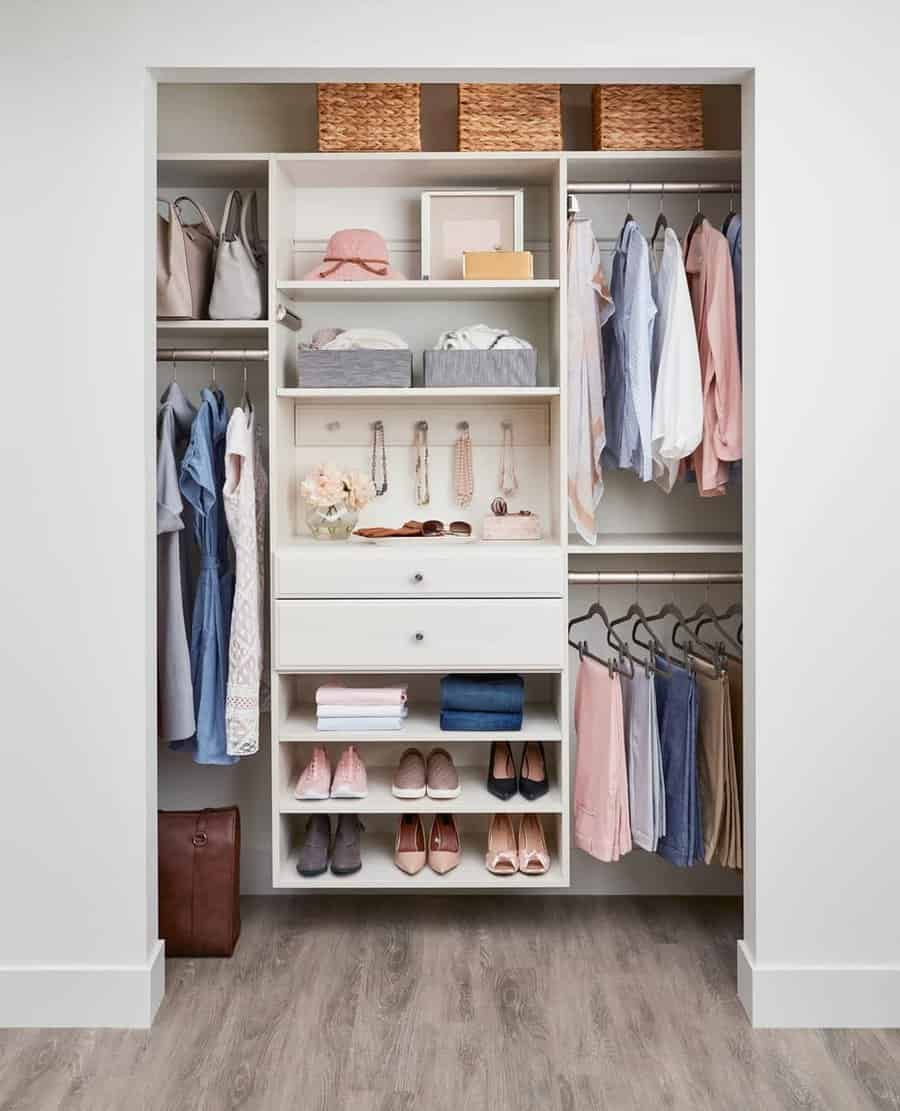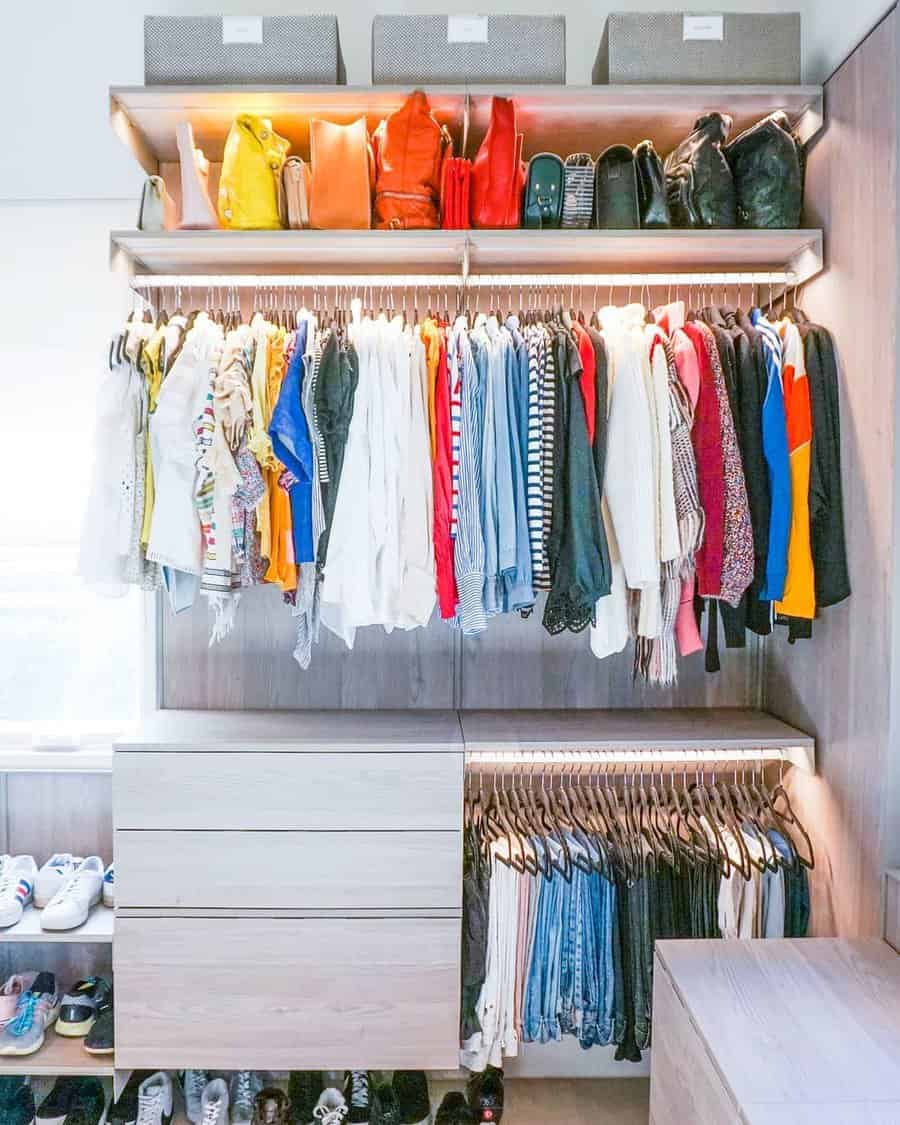 ---
---
---
Full-Wall Closet Shoe Shelf
Use fashionable ideas that go with your design to find the ideal approach to make the most storage space in your master bedroom closet. You can install a whole wall shoe shelf to keep your sneakers and heels on display and ensure that each pair has a place to call home. Creative display ideas can also be a terrific way to flaunt your purse and jewelry collections while keeping them close at hand.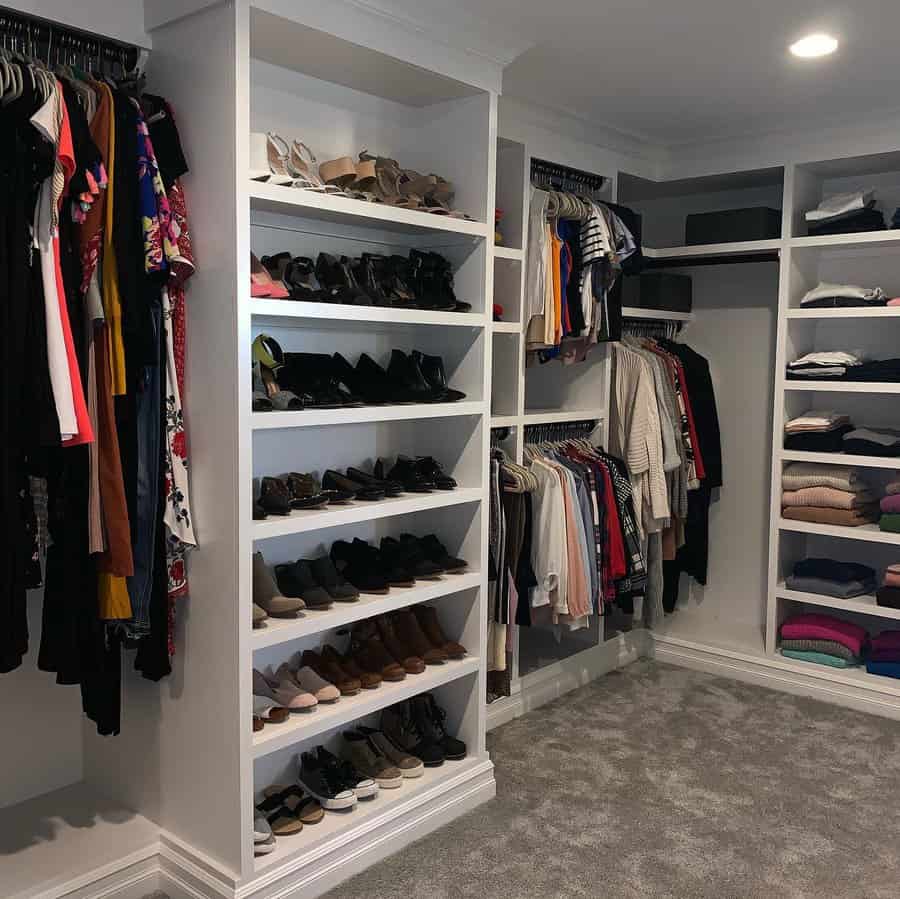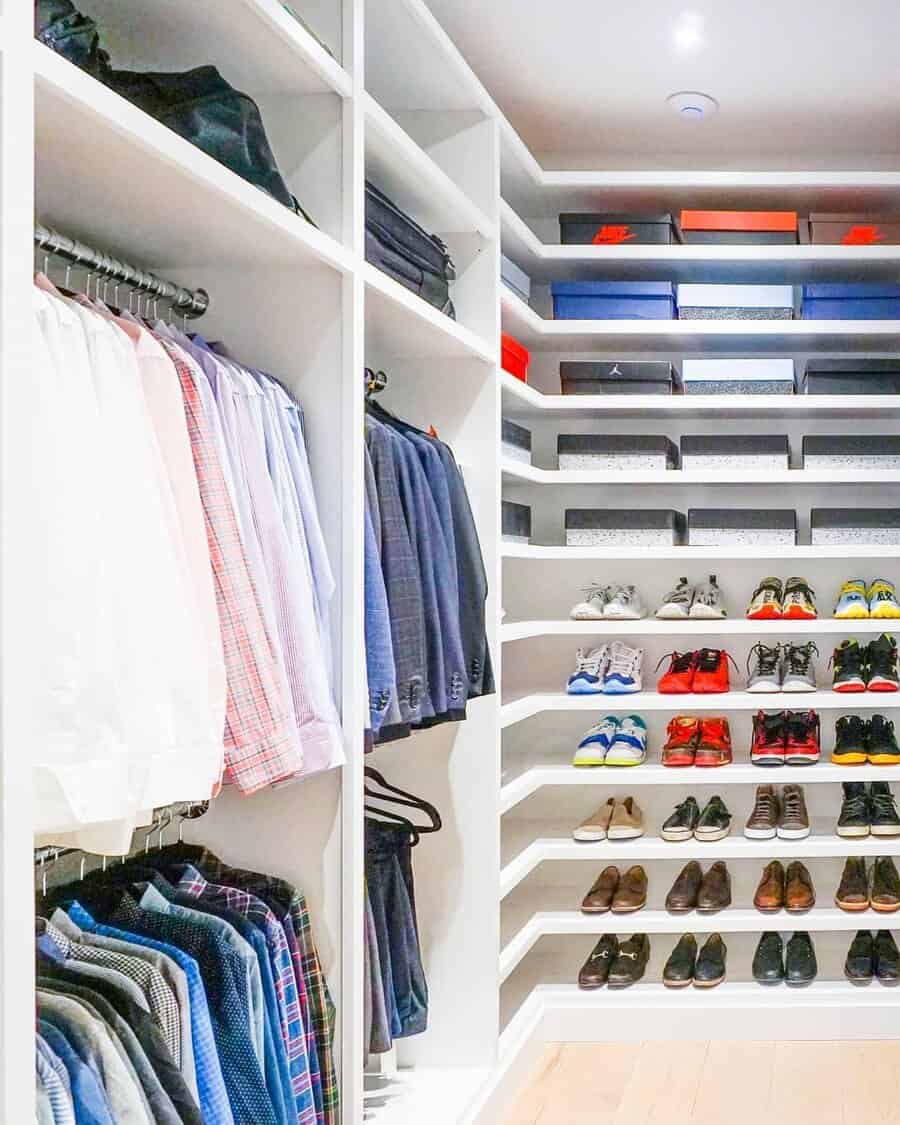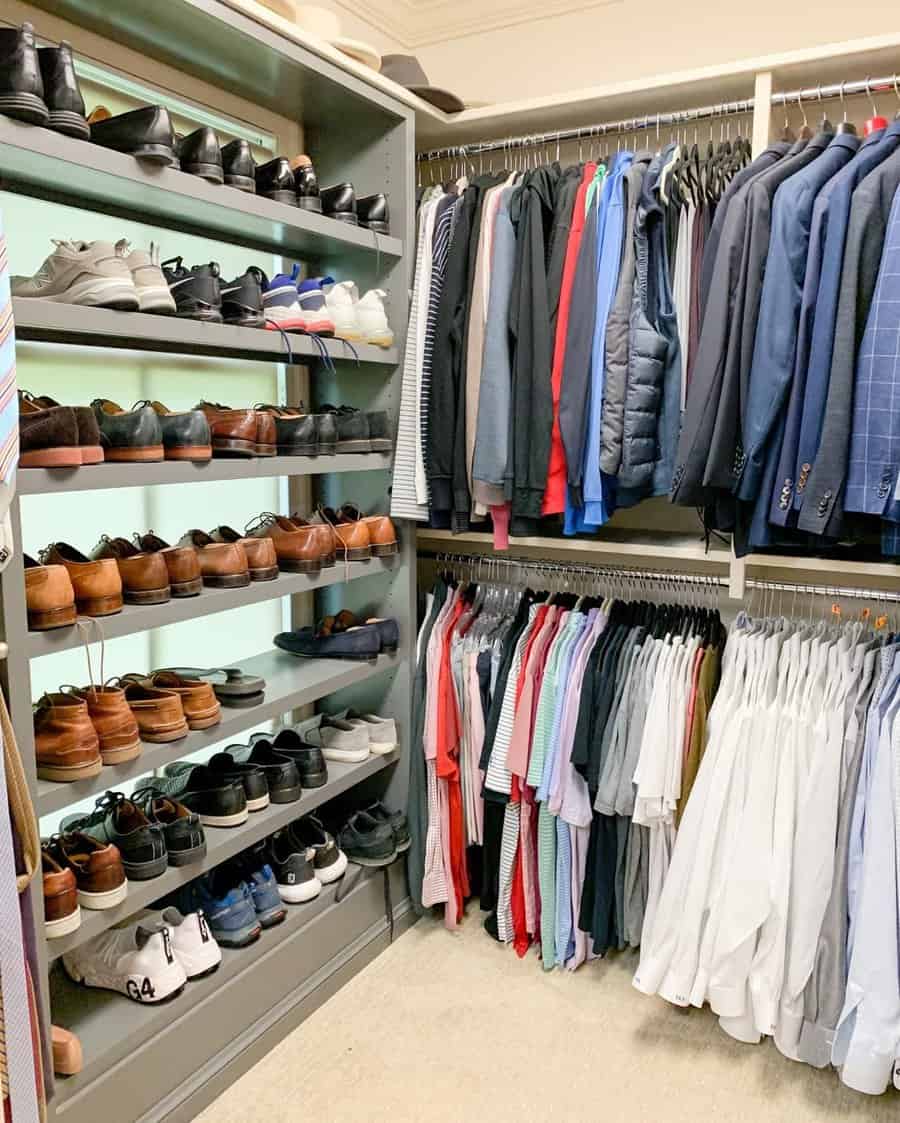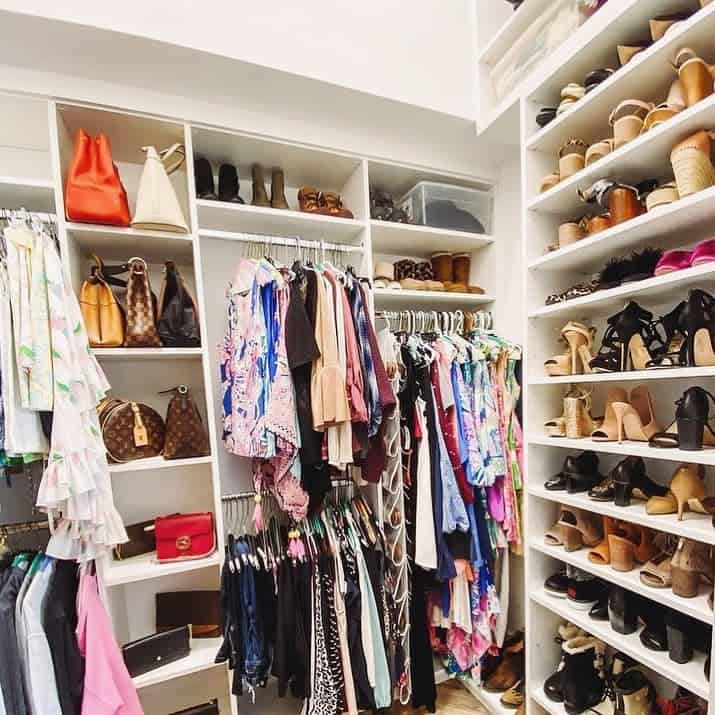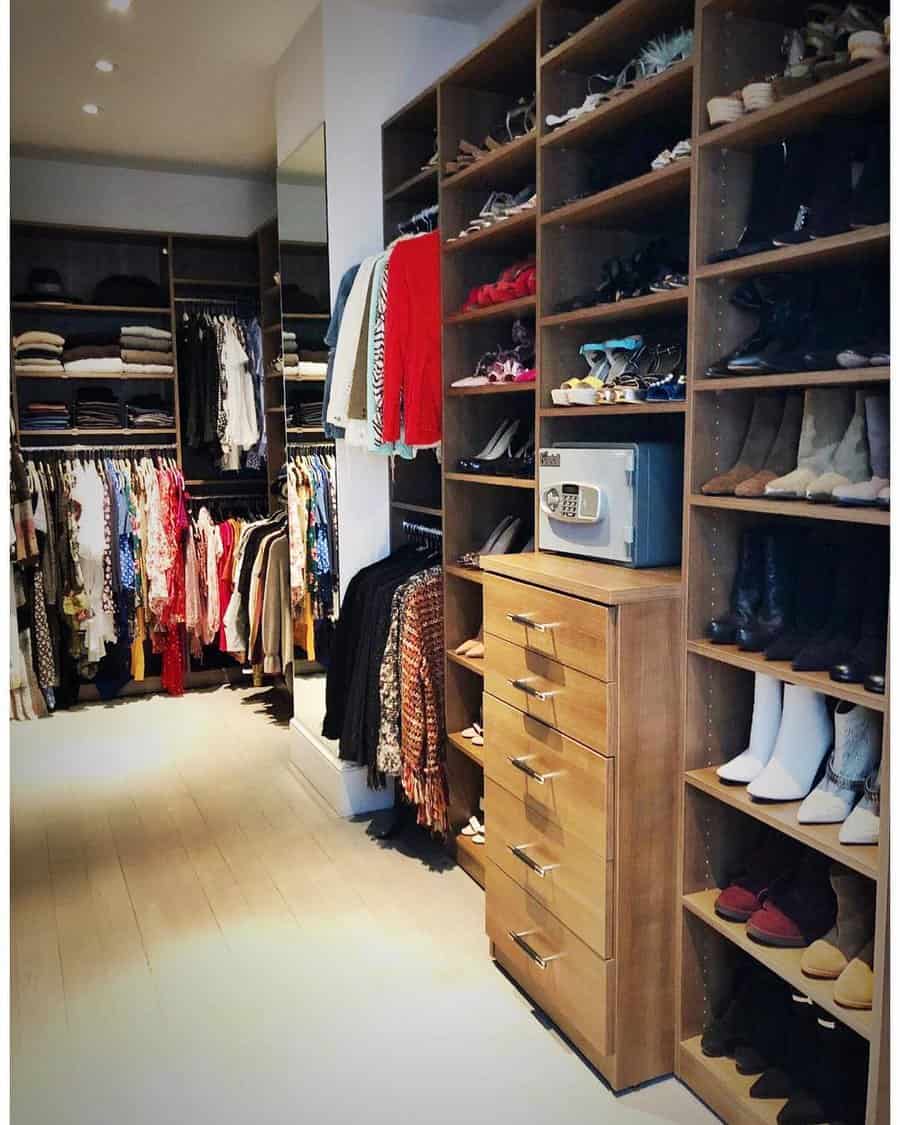 Closet With Inbuilt TV
Why not think about a closet with a hidden TV mount if you're seeking for innovative master bedroom closet ideas? This will offer a contemporary touch while saving crucial space in the room. To increase the storage choices, you could even add extra features like several hanging rods and drawers with pull-out storage that has been expressly created for them. You'll quickly have everything put away with the variety of organization techniques offered.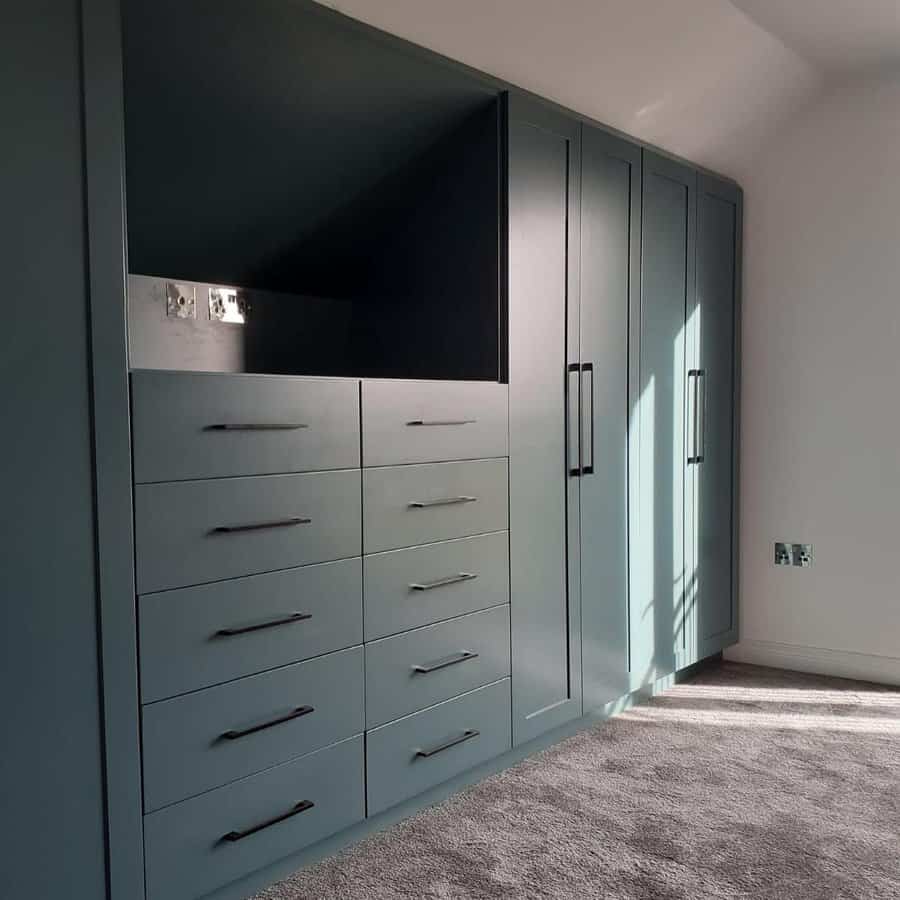 Walk-In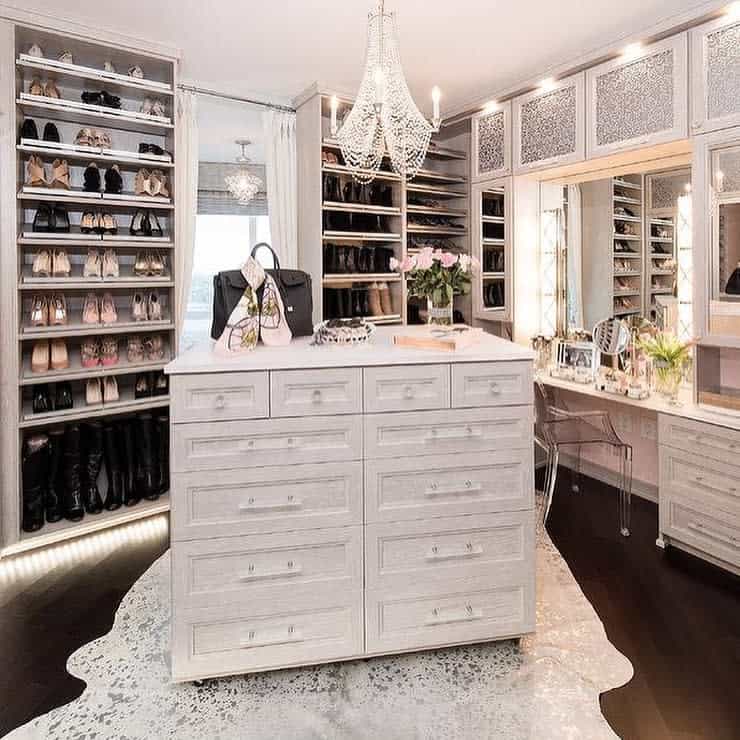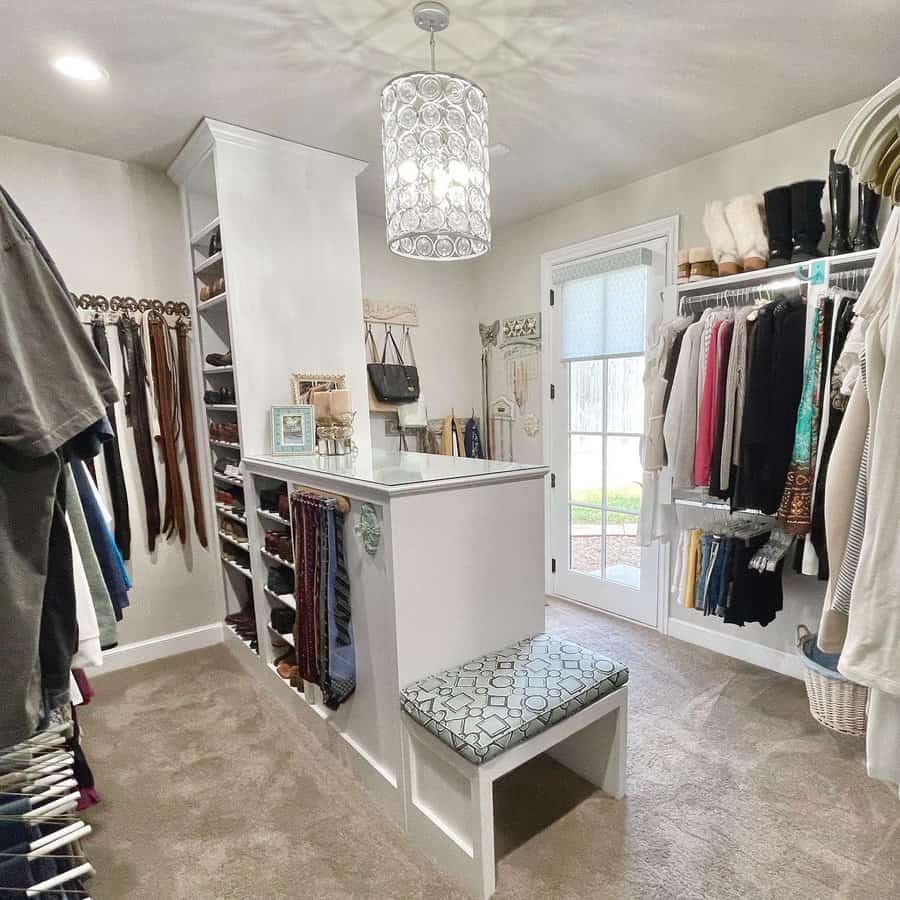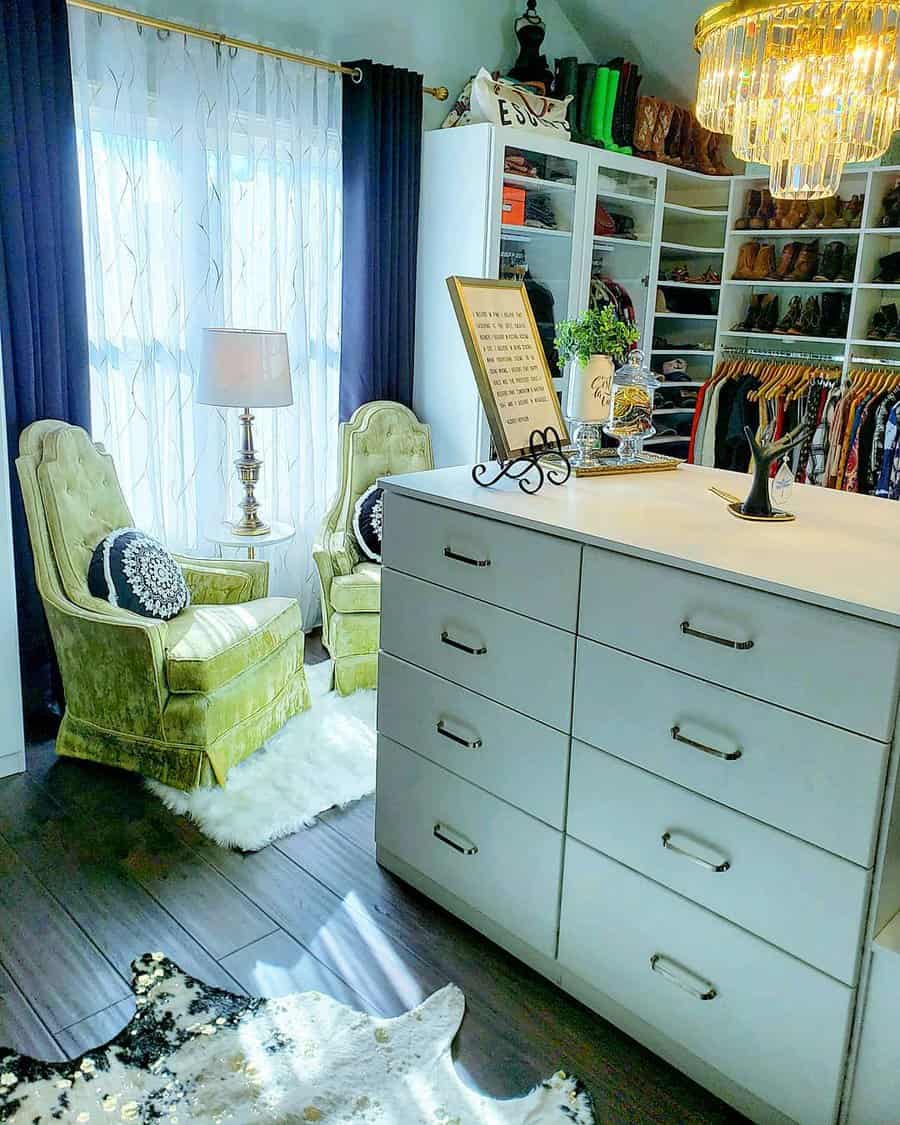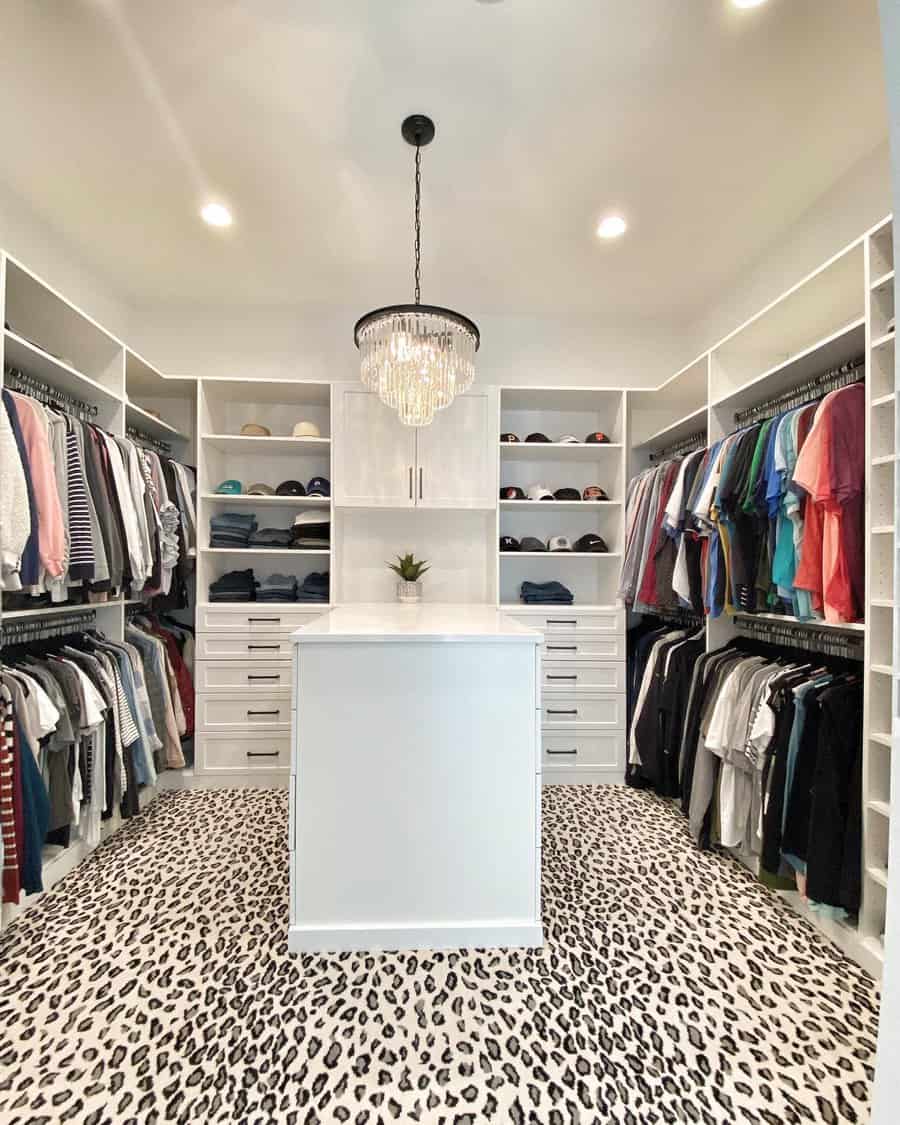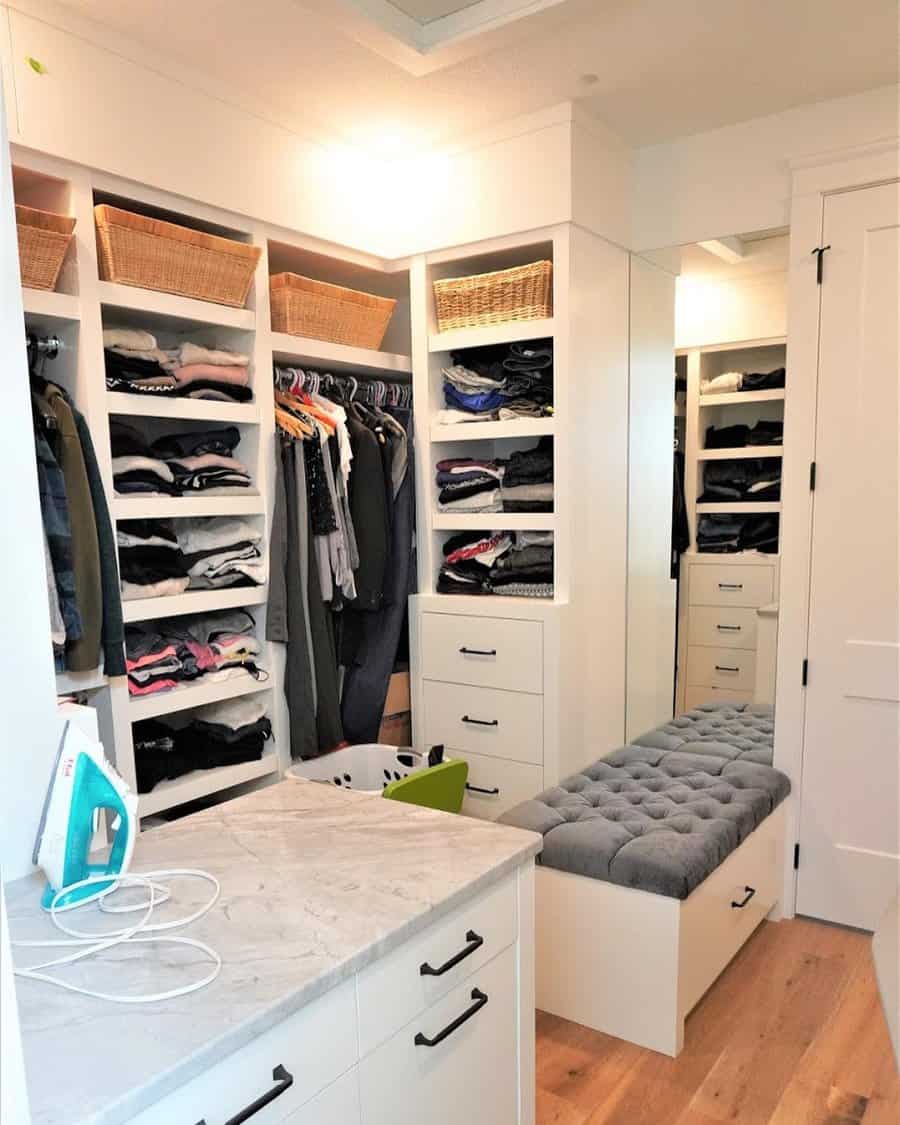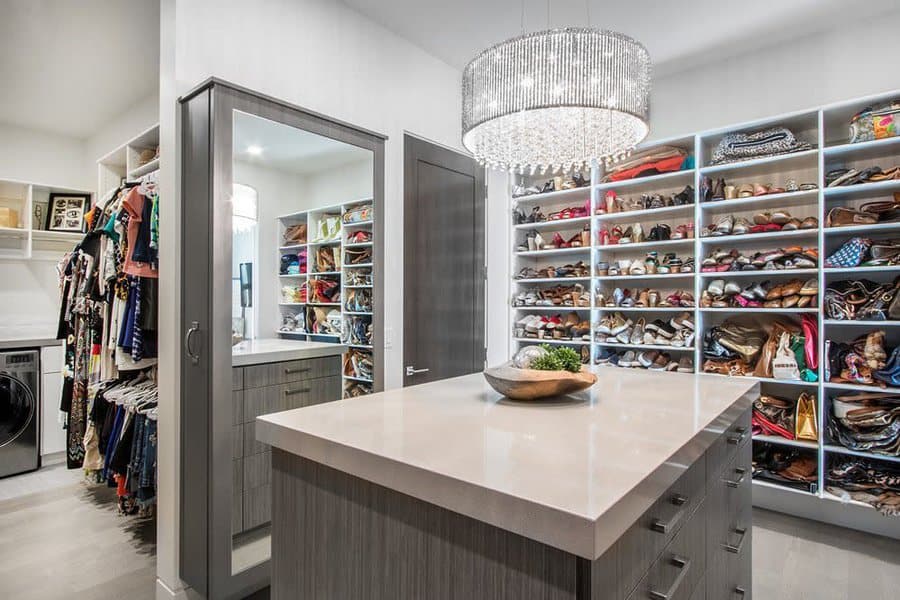 need.
White flooring, a floor-to-ceiling glass mirror, and brown polished wooden cupboards are all features of this modern closet.
Stylish closet with espresso-finished cabinets and mirror-fronted doors.
These closet design ideas will help you create a space that reflects your unique sense of modern sophistication and enduring class.