Transform your bedroom into a festive sanctuary that radiates warmth and captures the magic of Christmas with these 30 Christmas decor ideas for bedrooms.
The bedroom, often considered a sanctuary, deserves its own dose of holiday magic. While other parts of the house dazzle with festive decorations, the bedroom invites a more serene ambiance.
According to Anastasia Casey from the Interior Collective, incorporating natural elements, texture, and warm lighting can transform the space into a winter wonderland.
From olive branches to cedar sprigs and holly, these pieces can seamlessly transition from spring and summer to winter decor. So, bring in your favorite cozy items—velvet ribbons, throw blankets, fresh greenery, and twinkling lights—and let the holiday magic extend to your bedroom.
You can also find ideas to decorate your Christmas living room decor, Christmas fireplace decor.
Christmas Decor Ideas For Bedroom
Modern Christmas Bedroom Decor
Deck Your Alcove
Emily Henderson Design / Photo by Sara Ligorria-
This Christmas bedroom from Emily Henderson Design is like a scene from a holiday storybook! The towering tree nestled into the alcove with warm glowing lights creates a magical atmosphere. The whimsical stuffed animal trophy heads adorned with Santa hats and candy cane-striped scarves add a playful and festive touch. It's a delightful and cozy space that captures the spirit of the season, perfect for creating happy childhood memories.
Unconventional Colors
Design by Shavonda Garnder
Interior designer Shavonda Gardner, in collaboration with Emily Henderson Design, infused Christmas accessories into this teen bedroom. The design cleverly embraces a non-traditional holiday palette with blues and neon yellow. It's a creative and vibrant approach to holiday decor, catering to the unique style of a teen bedroom.
Cheerful Decor
Craftberry Bush
Blogger Lucy Akins from Craftberry Bush opted for a simple holiday refresh in her bedroom. The festive touches include a Christmas tree, a faux fur throw, holiday-themed throw pillows, and bed linens in bright red and white. The combination of these elements creates a modern and festive atmosphere, adding a touch of holiday spirit to the bedroom.
Layer Texture
Liz Marie Blog
Blogger Liz Marie added festive touches to her bedroom by stringing an antique door headboard with mercury glass baubles hung with fish line. She also incorporated a trio of cedar wreaths and tabletop trees on each nightstand. The lush greenery brings color and complements the wintry textures of the white, beige, and ivory bed linens, along with a chunky knit throw tossed at the edge of the bed. The combination creates a cozy and festive atmosphere in the bedroom.
Red Accents
This neutral-toned farmhouse bedroom from Thistlewood Farms comes alive with Christmas spirit through the addition of bright red flowers and holiday mantel decor. The crackling fire enhances the cozy and festive atmosphere in the room.
PRETTY PINK PALETTE
Jennifer Holmes
Dear Lillie Studio demonstrates how a pretty pink palette can lend a cozy charm to a bedroom. Whether your room has one defining color scheme or you're experimenting with new hues, the soft pink tones create a warm and inviting atmosphere.
BOW ON YOUR HEADBOARD
Courtesy Of Thomas Guy Interiors
Make a statement in your bedroom this holiday season by tying up your setting with a big, red ribbon. Fancy ribbon isn't just for presents—it can add a festive touch to your bedroom decor, creating a cozy and stylish atmosphere.
BABY BEDROOM CHRISTMAS TREE
Evgeniia Siiankovskaia/Getty Images
Turn the kids' bedroom into a magical holiday retreat by adding a real Christmas tree. The soft twinkle of the lights will create a cozy and enchanting atmosphere, making bedtime a delightful experience for everyone. It's a surefire way to win the Mom of the Year award!
BEDROOM STOCKIN DECOR
Madeline Harper
You don't always need to hang a star on the highest bough for festive cheer. In this serene bedroom, a pair of cheery red stockings creates the classic red-and-green color scheme, adding a touch of holiday spirit to the sleeping quarters.
CLASSIC RED BEDDING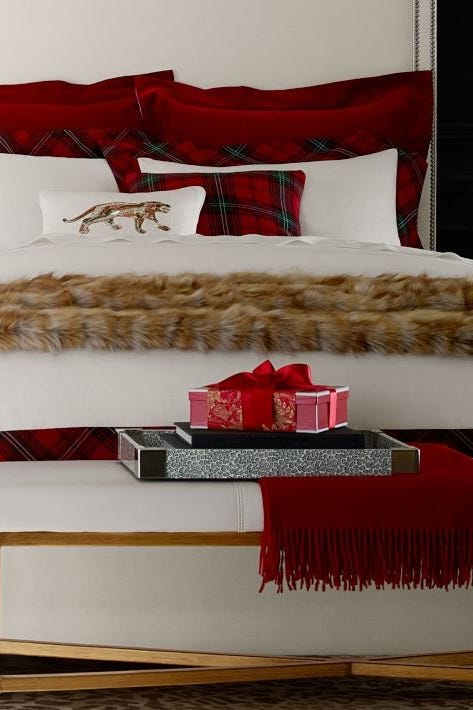 Williams Sonoma
Red tartan, faux fur, and presents propped at the end of the bed create a subdued yet cozy holiday appeal in this festive bedroom.
BRING IN FESTIVE POPS
Lark & Linen
A few simple accents, such as a wreath, pillow, and throw blanket combo by Lark & Linen, are all you need to infuse holiday vibes into your bedroom.
Christmas Bedroom Sign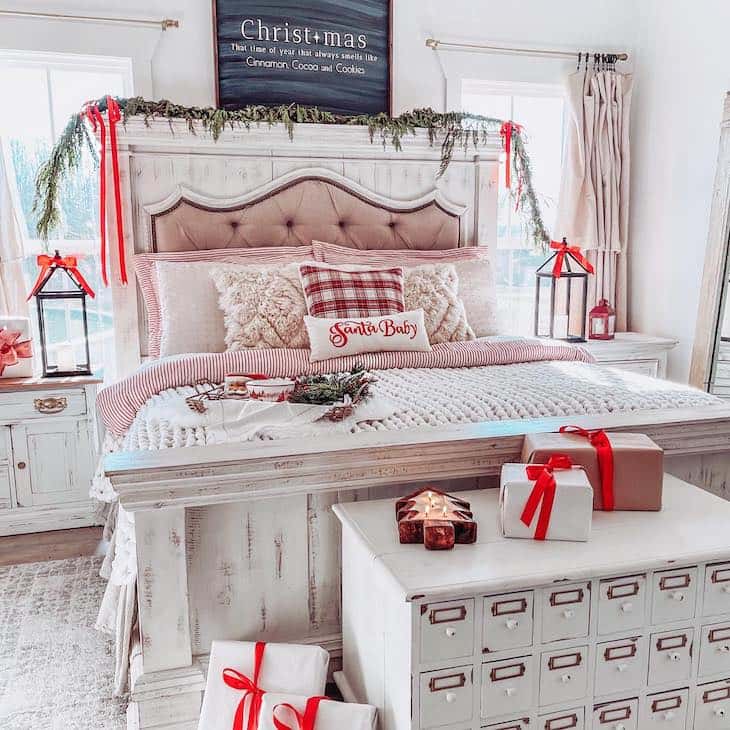 bedding // plaid pillow // blanket Farmhouse Ticking Stripe Red King Bed Skirt
Maximalist DECOR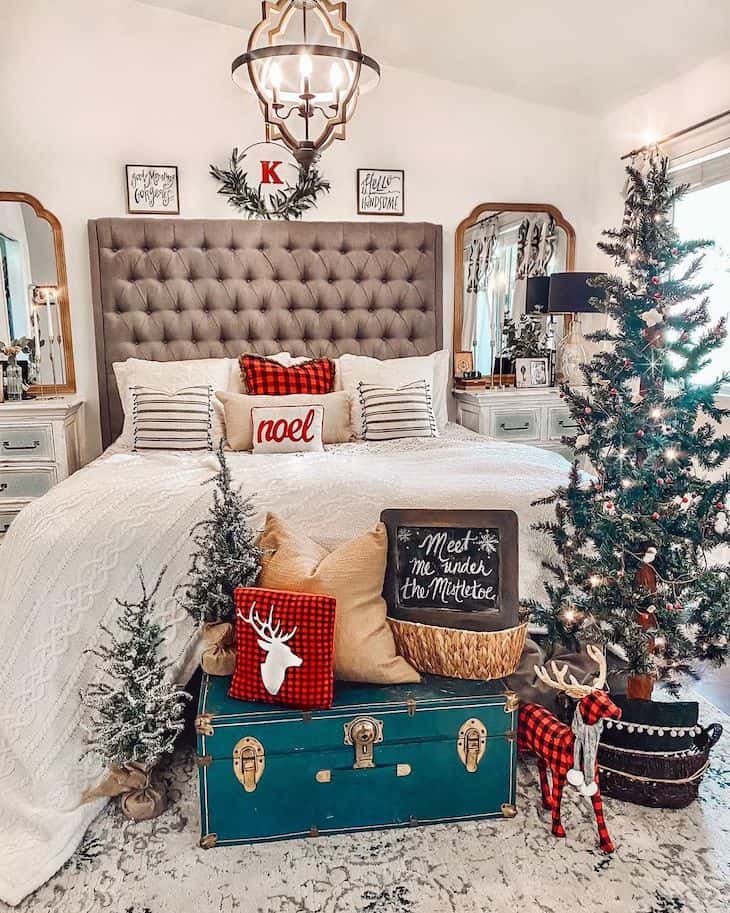 deer pillow CWI Gifts ICY Wispy Christmas Tree,
Show your love for the holidays with coordinating maximalist decor. This festive bedroom is adorned with matching bedding, pillows, wreaths, and a Christmas tree. Remember, Christmas trees aren't reserved for living rooms—opt for a simple and minimalistic pre-lit tree to bring the holiday spirit to your bedroom.
Red Plaid Christmas Bedding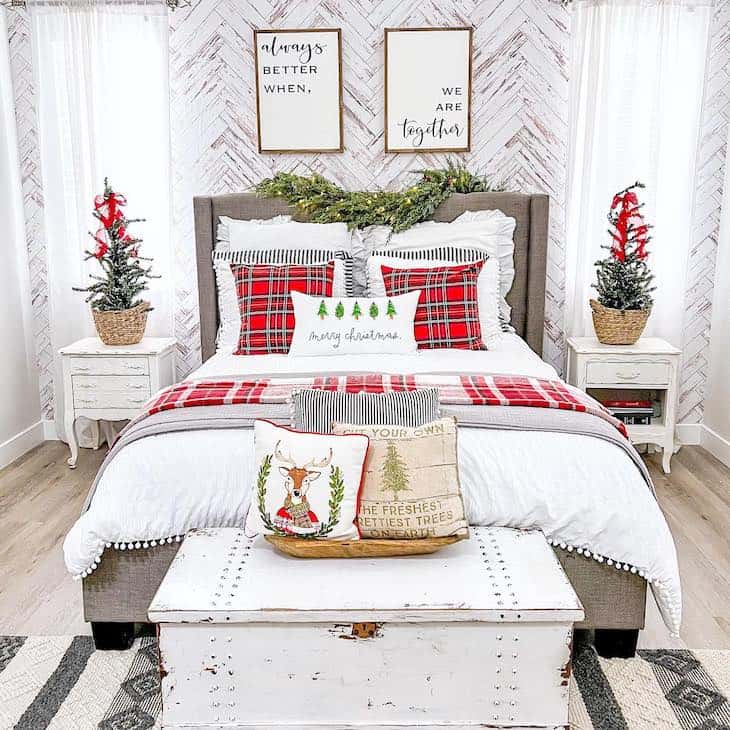 plaid pillows // garland // blanket // duvet cover // mini tree // lumbar pillow// JUDYBRIDAL Christmas Chenille Plaid Blanket
Christmas bedding is essential for creating a festive atmosphere in your bedroom. Instead of opting for traditional novelty prints like Santa Claus and candy canes, go for a chic and subtle design. Consider plaid or tartan prints in classic tones to add a touch of festivity. Enhance the holiday spirit with green garland draped over the headboard and a pair of mini trees adorning your bedroom nightstands.
Christmas Trees GALORE
Adding at least one, or even more, Christmas trees to your bedroom is a must. They bring the festive spirit right beside your bed, creating a truly immersive experience. To enhance the aesthetic appeal of your festive bedroom decor, adorn the trees with various decorations and fairy lights. If space is limited, consider getting a miniature Christmas tree to display on your nightstand. It adds a charming touch to your holiday bedroom.
White birch tree with lights? Buy it HERE.
Beautiful green Christmas tree is right HERE.
Red throw blanket is right HERE.
Black And Red Christmas Decor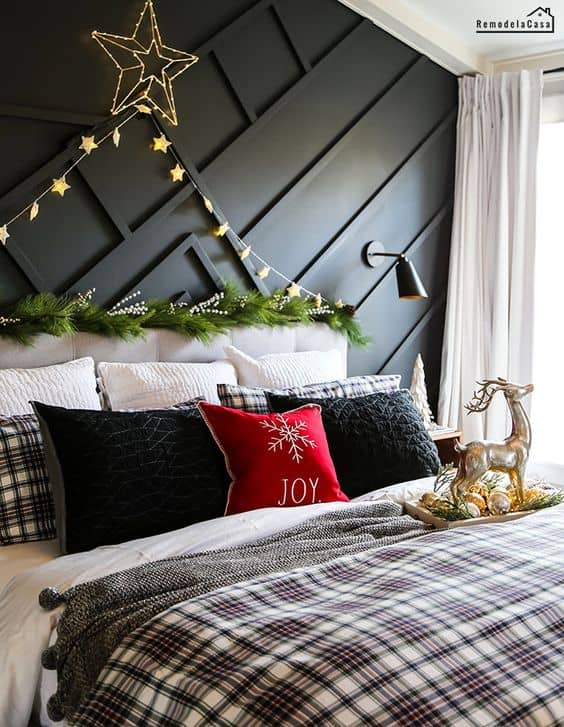 If you have back wall panels like the one shown above, that's fantastic. However, if not, you can still achieve a festive look by incorporating black decorations into your bedroom and adding golden decor to complement them. To maintain the traditional Christmas feel, make sure to punctuate the space with touches of red and green. It's a wonderful way to infuse holiday spirit into your bedroom decor
ELEGANT CHRISTMAS BEDROOM
Source: Randi Garrett Design
Attaching garland to the head and foot of your bed is a great way to bring festive vibes to your bedroom without the need for hooks. Simply tucking it between the mattress and footboard is an easy and effective solution. If you want to secure it further, using hooks is a practical precaution. It's all about finding creative ways to infuse the holiday spirit into every corner of your home!
DIY Joy Sign
MY VINTAGE PORCH
Crafting a "Joy" sign with woodworking magic, paint, jingle bells, a brass hoop, and greenery sounds like a delightful project! It adds a personal and festive touch to your Christmas bedroom. The combination of woodworking and creative elements like jingle bells and greenery is sure to bring warmth and holiday cheer to your space.
Mr. & Mrs. Christmas Bedroom Decor Idea
Plaid Christmas Bedroom Decor
Spread Faux Trees