Welcome the cozy warmth of Thanksgiving to your cute doorstep with these curated collections of "Thanksgiving Front Porch Décor Ideas."
Guess what, you need not do much!
These curated ideas will Transform your porch into a welcoming and festive space that celebrates the spirit of gratitude and abundance.
Set your tiny front porch adorned with autumnal colors, cozy elements, and charming accents that set the tone for a joyful Thanksgiving celebration.
Consider incorporating seasonal elements like pumpkins, cornstalks, and fall foliage to create a cozy and inviting atmosphere. Add touches of warmth with lanterns, wreaths, and comfortable seating that beckons friends and family to gather.
Whatever type of thanksgiving decor you want for Thanksgiving or you're hosting a Thanksgiving gathering or simply want to infuse your home with the spirit of the season, these "Thanksgiving Front Porch Décor Ideas" offer inspiration for creating a welcoming and festive outdoor space that reflects the gratitude and warmth of Thanksgiving.
You can also find inspiration for your thanksgiving centerpieces and thanksgiving table settings.
60 Thanksgiving Front Porch Décor Ideas
Farmhouse Thanksgiving porch
Imagine a farmhouse Thanksgiving porch adorned with the charm of white potted blooms, heirloom pumpkins, and wreaths crafted from burlap and pinecones. This rustic and inviting setting exudes warmth and simplicity, capturing the essence of a cozy Thanksgiving celebration. The combination of natural elements and neutral tones creates a timeless and welcoming atmosphere.
A harvest porch
A harvest porch adorned with an array of usual and heirloom pumpkins, interspersed with candle lanterns, bold leafy branches, and grass. This natural and inviting display captures the essence of the fall season, creating a warm and welcoming atmosphere. The combination of earthy elements and warm candlelight adds a touch of coziness to the porch, making it a perfect setting for autumn gatherings.
Thanksgiving porch with potted orange blooms
Picture a colorful and natural fall porch adorned with vibrant potted orange blooms in pots, surrounded by an assortment of natural pumpkins and gourds. This lively and organic display brings the beauty of autumn to your doorstep, creating a cheerful and welcoming ambiance. The combination of bright blooms and the earthy tones of pumpkins and gourds adds a dynamic and visually appealing touch to your fall porch.
Cozy Thanksgiving porch
cozy Thanksgiving porch adorned with an abundance of pumpkins stacked artfully, accompanied by flickering candles, rustic corn husks, and potted blooms. This inviting and warm display sets the scene for a festive Thanksgiving celebration, creating a cozy atmosphere that welcomes family and friends.
Elegant fall porch with pumpkins
This refined and stylish display captures the essence of autumn in a tasteful manner, creating a porch that exudes charm and sophistication. The combination of natural elements and soft candlelight adds a touch of warmth to the elegant fall setting.
Traditional fall blooms
incorporating small pumpkins, gourds, faux leaves, and other harvest-inspired items into your fall porch decor is a fantastic idea. The variety of pumpkins in different colors and sizes can create a visually stunning and vibrant display. Placing them in a planter with florist's foam is a smart way to arrange and secure them, especially for larger planters.
Vintage Thanksgiving front porch
Thanksgiving porch adorned with the warm hues of fall leaves, the soft glow of candle lanterns, and an assortment of pumpkins and gourds. Picture the scene elevated with the vibrancy of bright potted blooms, adding a lively touch to the autumn setting.
Bold, rustic Thanksgiving porch
Bold rustic Thanksgiving porch, curated with vibrant blooms in planters, corn husks, and the striking presence of bold apples arranged in wooden baskets.
Creative welcome sign
A creative welcome sign can be the perfect addition to enhance the charm of any Thanksgiving display. Whether it's a handcrafted wooden sign, a chalkboard with festive lettering, or a DIY creation, a welcome sign sets a warm and inviting tone for guests as they enter your Thanksgiving space
Thanksgiving porch with natural pumpkins and baskets
Thanksgiving porch adorned with the rustic beauty of corn husks and cobs, complemented by the lush presence of potted greenery and blooms.
Traditional rusty porch
I love the idea of adding a cute and unique touch to your patio beyond the traditional pumpkins, mums, and leaves. A DIY wooden cat sounds like a playful and whimsical choice that can bring a touch of personality to your outdoor space.
Welcome Thanksgiving wreath
A Thanksgiving wreath is indeed a must-have for your front door, adding a stylish and welcoming touch to your home. Whether adorned with fall foliage, vibrant autumn colors, or charming harvest elements, a well-crafted wreath sets the tone for the Thanksgiving season.
Pumpkins mixed with faux moss
I love the idea of combining pumpkins with faux moss in planters for a charming porch display. It adds a touch of nature and greenery, creating a visually appealing arrangement.
Potted decor
Adding a personal touch to a store-bought wreath by incorporating color-coordinated real and faux materials is a fantastic idea. It allows you to customize the wreath to match your style and preferences. The combination of twigs, pumpkins, seedpods, nuts, berries, wheat, and leaves creates a rich and textured look, making the wreath uniquely yours.
Fall gourds
I love the simplicity and beauty of using fall gourds as a straightforward outdoor decoration. The array of colorful pumpkins, squash, and other gourds arranged on your front steps creates a charming and welcoming display.
Beautiful faux pumpkins
Faux decorations offer the advantage of being reusable, allowing you to create a fresh and beautiful display each year without the need to purchase new items. Whether it's faux pumpkins, leaves, garlands, or fall blooms, you can mix and match them to craft a new and delightful arrangement for your seasonal decor. It's a sustainable and cost-effective way to keep your space looking festive and inviting.
Icing Winter Thanksgiving porch
An icing winter Thanksgiving porch sounds like a delightful idea! I imagine it involves creating a winter wonderland on your porch, perhaps with elements like snow-inspired decorations, twinkling lights, and cozy touches that embrace the beauty of the season.
Boho-rusty inspired Thanksgiving porch
Natural pumpkins, greenery, and foliage
A cozy and easy fall porch with natural pumpkins, greenery, and foliage sounds lovely! Stacked pumpkins in pots add a charming touch to the setting. It's great that it's easy to recreate, making it accessible for anyone looking to bring a touch of autumn to their porch.
Bright fall porch
A bright fall porch with natural pumpkins in various colors, fall leaves, and blooms creates a rustic and welcoming atmosphere. The mix of vibrant pumpkins and the warm tones of fall foliage can bring a cheerful and cozy feel to the porch.
Colorful live plants
The combination of pumpkins and colorful foliage adds a touch of seasonal charm to the porch.
Cozy and colorful Thanksgiving porch
A cozy and colorful Thanksgiving porch comes to life with potted blooms, vibrant greenery, a charming corn husk wreath, and stacked pumpkins adorned with lights.
Happy fabl yabl fall decor
photo via Shannon Gold Design
photo via MK Interiors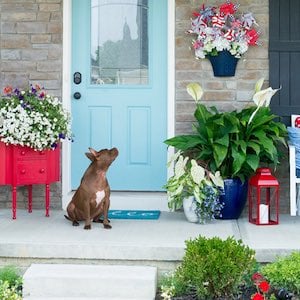 Welcome Home Patio Decor from Paint Yourself a Smile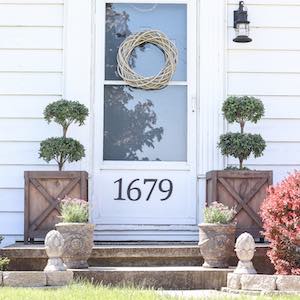 Neutral Front Porch from Love Grows Wild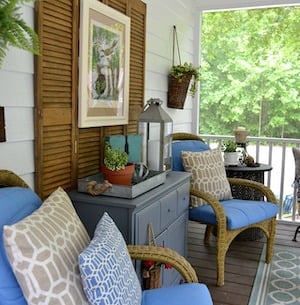 Screened Porch Reveal from Worthington Court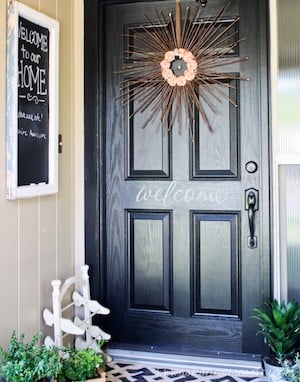 Front Porch Makeover from Ask Anna
A large front porch from Mindy Gayer Design Co. in Costa Mesa, California features an open layout and symmetrical seating groupings on either side of the blue front door.
A row of hanging plants creates a faux green wall that nearly divides the snug space from the adjacent house on this front porch from A Beautiful Mess, which is anchored by a hanging swing.
The outdoor living area on this front porch from Most Beautiful Things is cozy and modernized with a black-and-white color scheme, a striped rug, and patterned throw pillows.
Design by Studio Surface / Photo by Jenny Siegwart
The graphic tiled steps that become evident after you open the gate are a stunning surprise that gives this little front porch from interior designer Michelle Salz-Smith of Studio Surface a finished look.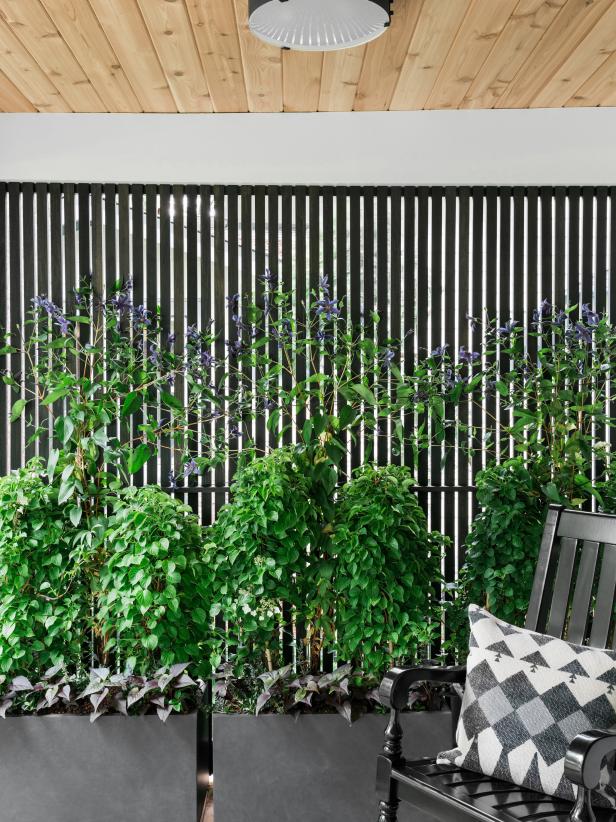 Photo By: Robert Peterson, Rustic White Photography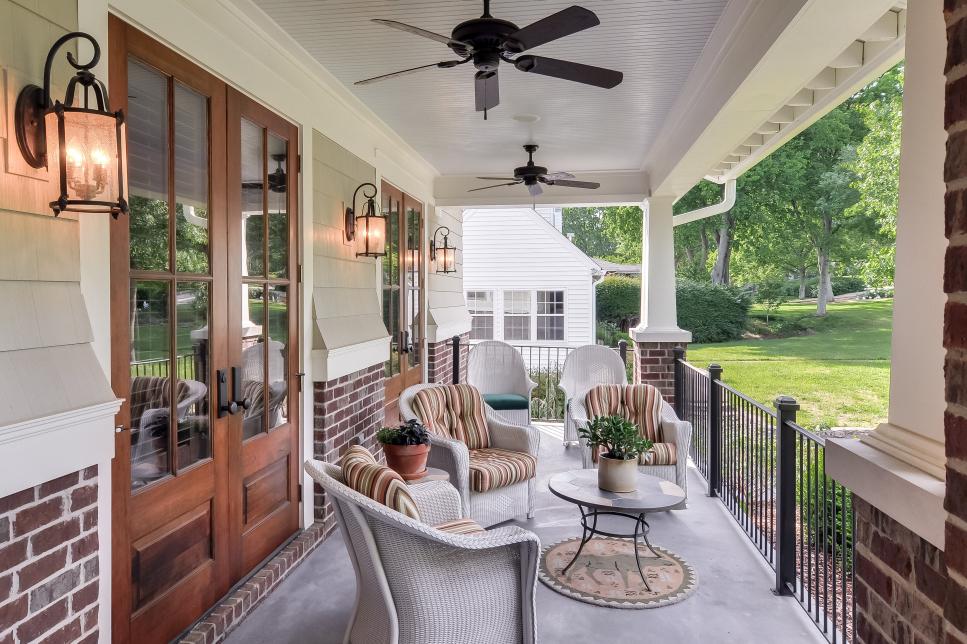 Photo By: William C Johnson Architect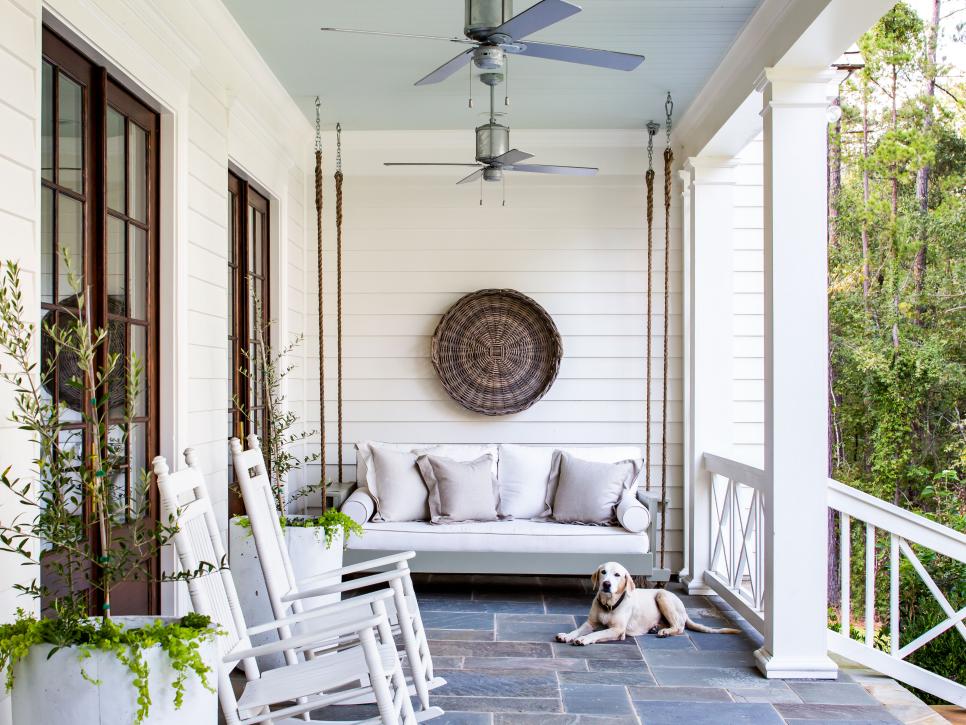 Photo By: Ashley Gilbreath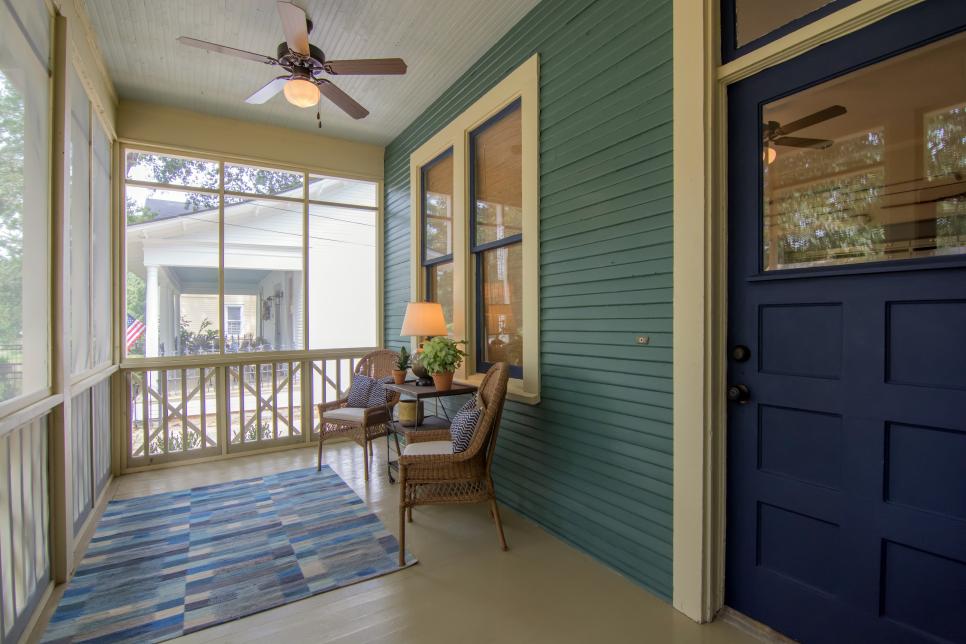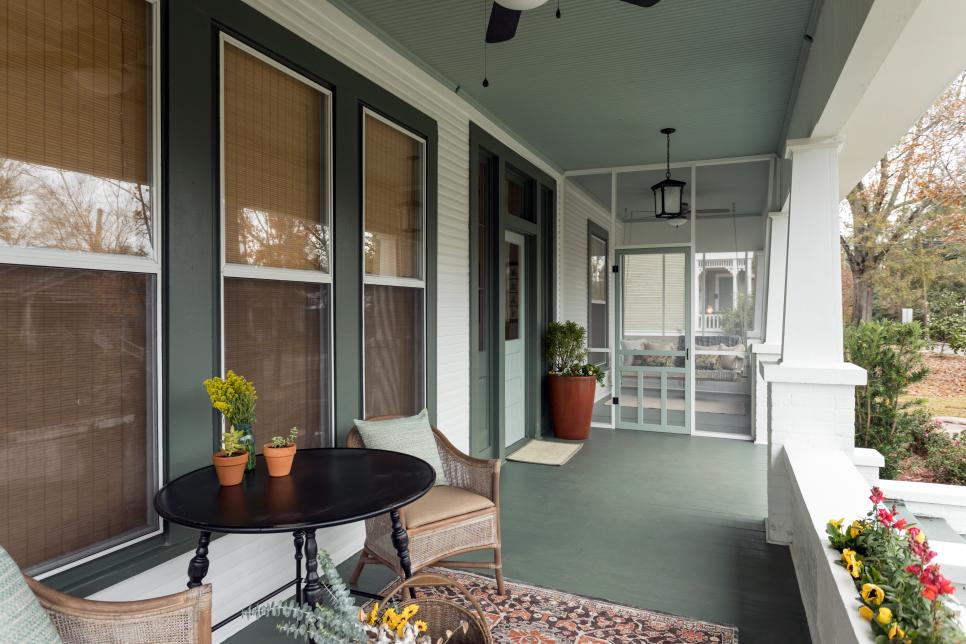 Photo By: Todd Douglas/ Verbatim
Photo By: Rebecca McAlpin
FRONT PORCH WITH PUMPKINS
Photo credit: Cabana Rehab Interiors on Instagram
Large orange plants and pumpkins have been placed in front of the front door, adding to the idea's "showy" quality.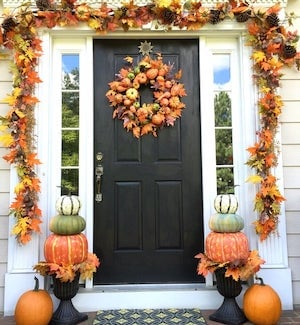 Autumn Porch Decorating Ideas from Laura Trevey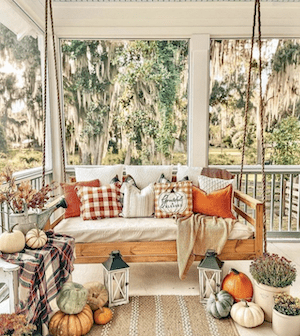 Vintage Farmhouse Porch Swing Decor from Instagram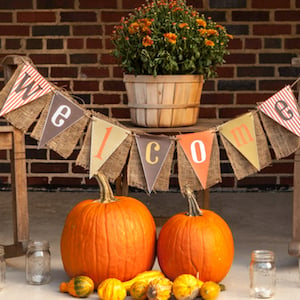 Welcome Porch Table Decor (source unknown)
banner + mum planter + orange pumpkins + gourds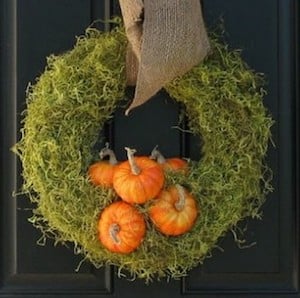 Moss and Mini Pumpkin Wreath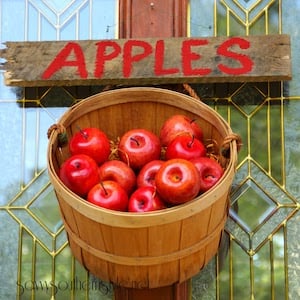 Apple Basket Door Hanger from Savvy Southern Style
Rustic charm of corn husks
A stylish fall porch sets the scene with the rustic charm of corn husks, an array of pumpkins in shades of green, white, and orange, accompanied by the soft glow of candle lanterns. Completing the welcoming display is a fresh fall wreath, adding a touch of natural elegance to the entrance.