Spookify your Halloween celebration with our "Spooky Halloween Charcuterie Board Ideas." Transform your traditional charcuterie board into a hauntingly delightful spread that will thrill and delight your guests.
In this collection, I've curated a variety of ideas that blend delicious treats with spooky aesthetics. Picture a charcuterie board adorned with ghost-shaped cheeses, creepy-crawly crackers, and a selection of meats arranged to resemble eerie creatures.
Add thematic touches like candy eyeballs and blackberries for a pop of dark color and thematic labels to bring the Halloween spirit to life.
Consider incorporating both sweet and savory elements to cater to every palate. From witch's broomstick pretzels to mummy-wrapped cheese, these ideas offer a perfect balance of tastiness and spookiness.
So, grab your favorite charcuterie board inspiration, gather an array of thematic snacks, and do your crazy DIY With our "Spooky Halloween Charcuterie Board Ideas," you can create a ghoulishly delightful spread that will be the centerpiece of your Halloween gathering.
Related: 90 Best Halloween Snacks & Treats Ideas
Spooky Halloween Charcuterie Board Ideas
Sweet Halloween Charcuterie Board
It's as easy as pouring an array of colorful candies onto a round board. Earn bonus points by featuring seasonal favorites like candy corn, gummy worms, and caramel apple lollipops. It's a playful and delightful treat that captures the essence of Halloween sweetness!
Dipped Pretzel Board
Creating a Halloween charcuterie board doesn't require making every element from scratch. Try dipping pretzel rods in milk chocolate and green candy melts to craft festive treats. Complete the platter with a selection of purchased candies, caramel corn, and pretzels. It's a delightful mix of homemade and store-bought goodies for a perfectly spooky and delicious spread!
Eyes Halloween Charcuterie Board
Transform healthy snacks into spooky delights with this Halloween charcuterie board idea. Create treats like peanut butter celery sticks and apple slices, dressing them up with faces made from candy eyes and black frosting. It's a fun and nutritious twist that adds a playful touch to your Halloween festivities!
Scary Bobble Treat Board
Packed with playful treats such as candy eyeballs, cheeses, and savory meats, this board is an ideal centerpiece for any Halloween gathering. It's a delightful mix of spooky and savory that's sure to delight your guests!
Candy Hocus-Pocus Board
I love the idea of a Halloween board inspired by a cult classic movie! Packed with fun, iconic, and easy-to-make treats, it sets the perfect tone for your next party or event. What are some of the treats that capture the essence of the movie?
Halloween Candy Sweet Treats
Impressive and delicious! This Halloween spread is a delightful party treat featuring a chocolate skull centerpiece surrounded by an array of candies and other sweet delights. It's a simple yet enticing dessert board that's sure to be a hit with your guests.
Poppy Halloween Board
A ghost-themed board filled with adorable treats like Halloween sugar cookies, pretzel sticks, and candy eyes sounds like the perfect spread for both kids and adults. It adds a playful and whimsical touch to your Halloween celebrations.
Festive Halloween Board
A Halloween candy board teeming with skeletons, ghosts, witches, worms, and an assortment of sweet treats sounds like a delightful and festive spread! It's sure to capture the spooky spirit of Halloween.
Spooky Fruity Platters
Getting the kids involved in making simple and delicious party food is a fantastic idea! Using small cookie cutters to shape their favorite fruits adds a fun and creative element. Not only does it make the food more visually appealing, but it also turns the preparation into an enjoyable activity for the little chefs.
Coffin-shaped serving platter
Embracing the spooky season with a coffin-shaped serving platter is a brilliant and thematic touch. It adds an extra layer of Halloween flair to your presentation
Outdoor Board
Charcuterie board on craft paper
A charcuterie board on craft paper sounds like a charming and rustic presentation. The simplicity of craft paper can enhance the natural and wholesome feel of the spread.
Apple and cheese board!
An apple and cheese board is a delightful combination! The crisp sweetness of apples paired with the rich and savory notes of cheese create a harmonious and satisfying palate.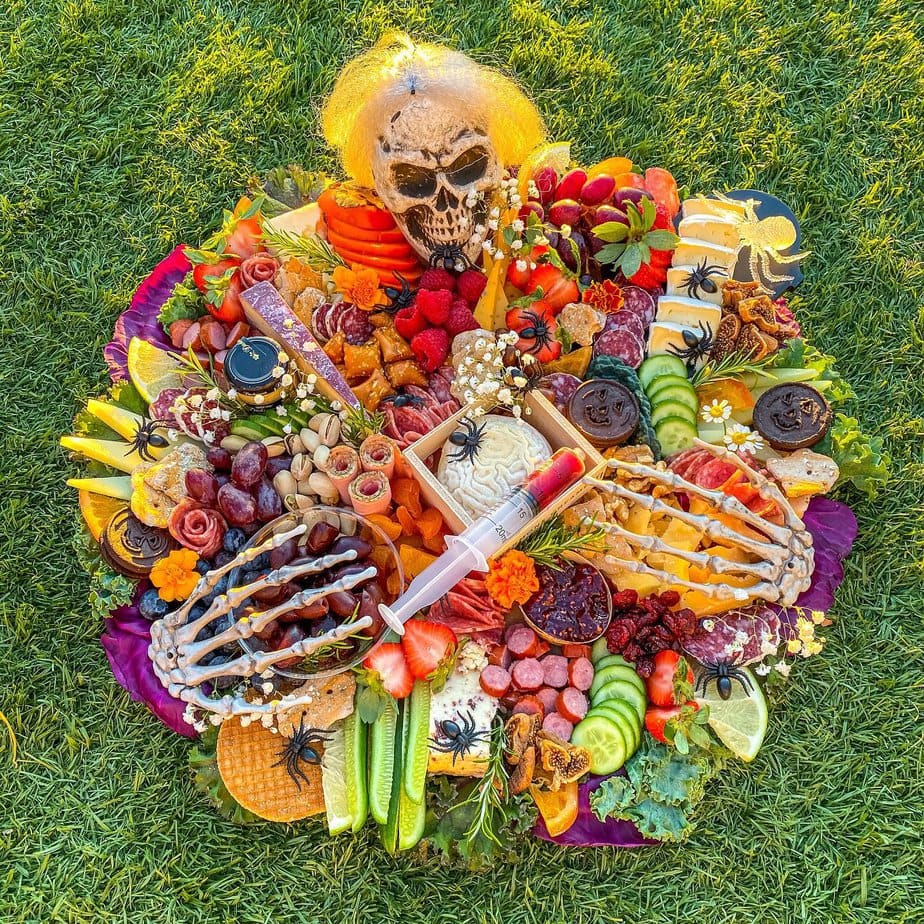 Source: @briegrazingboards
And this is how the pros do it when catering for a large party or even a Halloween wedding! The position of the skull and hands makes it looks like this feast has been laid out on his body! And I love the addition of the syringe filled with some tasty dip or condiment!
Orange-themed Fallboard
An orange-themed Fall board sounds like a burst of autumnal goodness! The warm and vibrant tones of orange can be achieved through a variety of fruits, vegetables, and snacks.
Orange Halloween Charcuterie Board With a Skeleton
Halloween Candy Board