Beautify your holiday decor with these 150 modern Christmas trees decor ideas. Infuse the holiday spirit into your home with a stunning Douglas fir adorned with enchanting string lights, festive ornaments, and festive ribbons. We've scoured the internet to bring you a myriad of Christmas tree decorating ideas, catering to various styles and preferences.
Whether you're inclined towards a maximalist design radiating with sparkle or favor a coastal-inspired theme, our curated list of 150 fabulous ideas has you covered. From traditional trees adorned with colored lights, ribbons, or poinsettias to simpler options with a Scandi vibe, you're sure to discover a new favorite.
Even though these trees may seem intricate, fear not—you can transform your space with these decorations in just a few hours, making it a delightful family affair. We recommend kicking off the festivities on Thanksgiving weekend and leaving the tree up until after Christmas, allowing you to revel in the joy and warmth it brings.
As December approaches, now is the perfect time to contemplate your Christmas decorating scheme. If you're feeling extra festive, we even have ideas for not one but two trees. Whether you prefer tall or tiny trees, our well-curated list below has something for everyone. Get ready to usher in the holiday season with style!
You can also check inspo. for your Christmas Front Porch Decor Ideas, Christmas Wreaths Ideas to Add Festive Style to Your Front Door, 15 Stunning Green & Gold Christmas Tablescapes and 25 Cute Green & Gold Christmas Decor Ideas
150 Modern Christmas Trees Decor Ideas 
Bright Red Cozy Tree
INSPIRED BY CHARM
Adorn your spruce tree with a rich display of red and burgundy baubles, complemented by classic beaded garland and thick snowflake ribbon. This combination will infuse your home with a cozy and warm ambiance, setting the perfect festive tone.
Peace Dove Tree
MICHAEL PARTENIO
Channel the classic Christmas vibes by adorning your tree with a frosty wonderland theme. Create DIY paper doves, crown them with a pinecone topper, and fill the tree with the delicate charm of snowflake ornaments and silver ribbon. You might just find yourself humming along to Bing Crosby's timeless holiday tunes as you transform your tree into a winter masterpiece.
Gold snowy tree
ELIZAVETA STARKOVA//GETTY IMAGES
Why settle for one Christmas tree when you have the space for two? While it might make the room feel a tad cozier, the joy and festive spirit will undoubtedly double, creating a delightful holiday atmosphere.
Make It greeny Golden
YANA ISKAYEVA//GETTY IMAGES
Who says Christmas has to be all about bold colors? Embrace the elegance of soft, warm metallics by adorning your tree with muted golds, darker brasses, and a touch of sophistication. It's a stylish twist that radiates the spirit of Christmas.
Homemade Collar tree
A BEAUTIFUL MESS
For a touch of tradition with a creative twist, consider revamping your tree stand. A DIY tree collar can be crafted with just a few supplies. Grab a cardboard box as a guide, and let the gluing commence for a simple yet stylish addition to your Christmas tree.
Nature Inspired
CAROLINE SHARPNACK
Lauren Sullivan from Well x Design embraces a natural and organic style with her Christmas tree decor. Packed with neutral, pinecone, and plaid-inspired ornaments, the tree exudes a rustic charm. The addition of a wicker tree collar and a neutral ribbon garland completes the cozy and earthy aesthetic.
The Luxe Look
ELIZAVETA STARKOVA//GETTY IMAGES
Achieve a grand holiday display by featuring a tall, snow-covered Christmas tree adorned with warm white lights and elegant baubles. Skip the tree topper to allow the assortment of small and large ornaments to take center stage, creating a festive and sophisticated ambiance.
Minimalist tree decor
EGLE ALEKSANRAVICIUTE//GETTY IMAGES
Showcase the natural beauty of your carefully chosen Christmas tree by opting for a minimalist approach to decor. Enhance the tree with vintage-inspired string lights and a few carefully selected ornaments, allowing its inherent charm to shine through.
Rustic orangy Tree
DANIELLE DALY
Capture the essence of nature with this rustic Christmas tree decor. Utilize dried oranges, faux cranberries, and pom-pom garland to achieve the look. For an extra touch, replace the traditional tree skirt with a charming straw basket.
Nutcracker Christmas Tree
LOVELY INDEE
Let your children play a role in choosing this year's Christmas tree theme by incorporating their favorite holiday characters, like nutcrackers. Enhance the festive atmosphere by adding a colorful rainbow garland.
Glizzy and Glamy tree
CHERISHED BLISS
Embrace the textured charm of this snow-covered Christmas tree, featuring a frosted net ribbon and a delightful mix of matte, glittery, and shiny ornaments.
Glizzy ornaments
Maintain a cohesive and elegant look with a variety of lighter-shade ornaments adorning this Christmas tree.
Checkered Woodland tree
COURTESY OF SEE VANESSA CRAFT
Capture the essence of a woodland scene with an artificial tree adorned in berries and pinecones. Complete the look with classic plaid ribbon and an assortment of wood ornaments for a festive celebration.
Peppermint and Elf Christmas Tree
3D Star Christmas Tree 
Cuckoo 4 Design
Advent Christmas Tree 
Tatertots and Jello
Mrs. Claus Tree
Design Dazzle
Classic Christmas Tree 
From Just Destiny
Simple Farmhouse Christmas Tree
 From Love Grows Wild
Poppy eyes Christmas tree
DIY CANDY
Take your Christmas tree to a galaxy far, far away by transforming it into a Star Wars-themed masterpiece with these C-3PO and R2-D2 ornaments. May the Force be with your holiday decor!
Modern Minimal Tree 
from Homey Oh My
Black, White & Silver Christmas Tree 
From Lil Luna
A Flocked Tree 
From Craftberry Bush
InShapes flocked tree
ANASTASIIA KRIVENOK//GETTY IMAGES
This tree is a whimsical wonderland, adorned with an eclectic assortment of wooden ornaments, from stars and hearts to cacti and presents. The frosted tree is bathed in the dreamy glow of globe lights.
Black, White & Gold Tree 
from Kara's Party Ideas
Baby Outside Tree 
from A Thoughtful Place
Love Christmas tree
COURTESY OF SUBJECT
Why limit the joy to just Christmas? Embrace the love and celebrate Valentine's Day by adorning your tree with artificial red flowers and heart-shaped ornaments.
Tabletop sign Tree
MAX KIM-BEE
Inject some farmhouse charm into your living room by placing a small tabletop tree in a galvanized tub. This rustic touch will bring warmth to your space.
Santa's North Pole Christmas Tree
 from Tatertots and Jello
Classic Christmas Tree 
from Making Home Base
Snowy Christmas Tree 
from Unskinny Boppy
Metallic Silver and Gold Christmas Tree
Poinsettia Christmas Tree
Red & Green Christmas Tree 
from Sew Many Ways
Try Toned-Down Florals
CREATIVASTUDIO//GETTY IMAGES
Adorning your Christmas tree with poinsettias. Faux florals in rustic brown and silver tones bring texture and an artisanal touch. Pair them with intricately carved doves and classic ball ornaments in mixed metals to complete the charming farmhouse look.
Christmas Tree Reveal 
from Shanty 2 Chic
Dream Tree Challenge Burlap Ribbons  
from Make it, Love it
Rustic Christmas Tree with Pine Cones and a Burlap Ribbon 
from Kristine in Between
Rustic Christmas Tree with Natural Elements 
from Fynes Designs
Woodland Animal Tree
Noel Ribbon Christmas Tree 
from A Pop of Pretty
Advent Calendar tree
TATERTOTS & JELLO
Ditch the typical advent calendars and infuse more fun into counting down the days until Christmas by incorporating giant numbers into your tree. It adds a playful and creative touch to the festive atmosphere.
Woodland Christmas Tree 
Plaid Woodlands Christmas Tree
Coastal Christmas tree
PERNILLE LOOF
This room demonstrates that you can maintain your preferred colors while still creating a festive and cheerful atmosphere, making it perfect for celebrating Christmas and Hanukkah.
Natural Pinecone Tree 
from Four Generations, One Roof
Natural Woodsy Christmas Tree 
from The Lilly Pad Cottage
Santa's Cabin Woods Christmas Tree 
from Design Dazzle
Reindeer Christmas Tree 
from Lia Griffith
Icicle Christmas Tree
Atta Christmas Tree
from Atta Girl Says
Berries tree
COURTESY OF SUGAR AND CHARM
Opt for simplicity by adorning your tree with sprigs of red berries. This minimalist approach brings an earthy and fresh aesthetic to your living room.
Berry Garland Tree  
from Clean and Scentsible
Red, White and gold Christmas Tree
Gold and White Flocked Tree 
from Setting for Four
Moody Christmas tree
JUST DESTINY
For an effortlessly chic and modern look, embrace the moody elegance of black, white, and gold. This color combination adds a touch of sophistication to your Christmas decor.
Blush Pink vintage tree
from I Heart Naptime
Red and White Santa Tree 
from Two Sisters Crafting
Black and White Tree 
from Just Destiny
Candy Cane White Christmas Tree
Candy Land Tree 
from Kandee Johnson
Snow Flocked Pine Tree
Inspire holiday cheer this season with a flocked Christmas tree that helps make the season feel complete; equipped with sturdy branches, strong enough to hold garland and all your favorite ornaments for a customized look
Fraser Hill Farm 7.5-Ft. Flocked Mountain Pine Christmas Tree
For the Christmas decorations in your home, the many shades of green and realistically flocked imitation snow create a genuine winter addition.
EASY TO INSTALL AND DISCONNECT: The fake branches' metal-hinged design enables them to open up fast and easily at the beginning of the holiday season and fold back into a narrow shape after Christmas for simple, space-saving storage.
ANOTHERME 7.5ft Pre-lit Christmas Tree Snow Flocked
Design with Snow Flocked: This 7.5-foot-tall heavy snow-focked Christmas tree, which was made with 1320 branch tips and snow-flocked leaves, provided a lovely winter environment and became the center of attention in the home.
AMERZEST Pre-lit Snow Flocked Christmas Tree
Flocked Tree: 6 feet tall (including stand) and 45 inches in diameter at the base. This tree is lit with 300 color changing LED lights and 10 light functions to inject some holiday spirit into your home.
OasisCraft 6ft Pre-lit Christmas Tree Hinged
Full form with 600 Clear Lights, 6 FT tall (with stand), and 49 inches broad.
Features Fullness Classic Needles made of 100% PVC, with 1668 realistic branch tips. Fire-resistant and allergic-free
Christmas tree assembly is simple. three distinct pieces were added one by one. The installation will be enjoyed by your family. Kids enjoy it because of the authentic vibe.
This tree may be used both inside and outside. It is appreciated to have family and friends join you as you enjoy a wonderful Christmas.
Balsam Hill 6ft Premium Unlit Artificial Christmas Tree
Choose the perfect Christmas tree in the comfort and convenience of your home. The box contains branch tips, so you can see the actual color and feel the various textures of all the artificial Christmas trees offered by Balsam Hill on Amazon.
Hykolity 6 ft Snow Flocked Christmas Tree
The 6 foot flocked Christmas tree is prelit and has 250 soft white incandescent lights that give off a nice, cozy glow. It also has 762 branch tips for a full appearance. displays branch tips that have been dusted with snow and is trimmed with clusters of pine cones. The north valley spruce tree also offers plenty of room to display your preferred holiday decorations.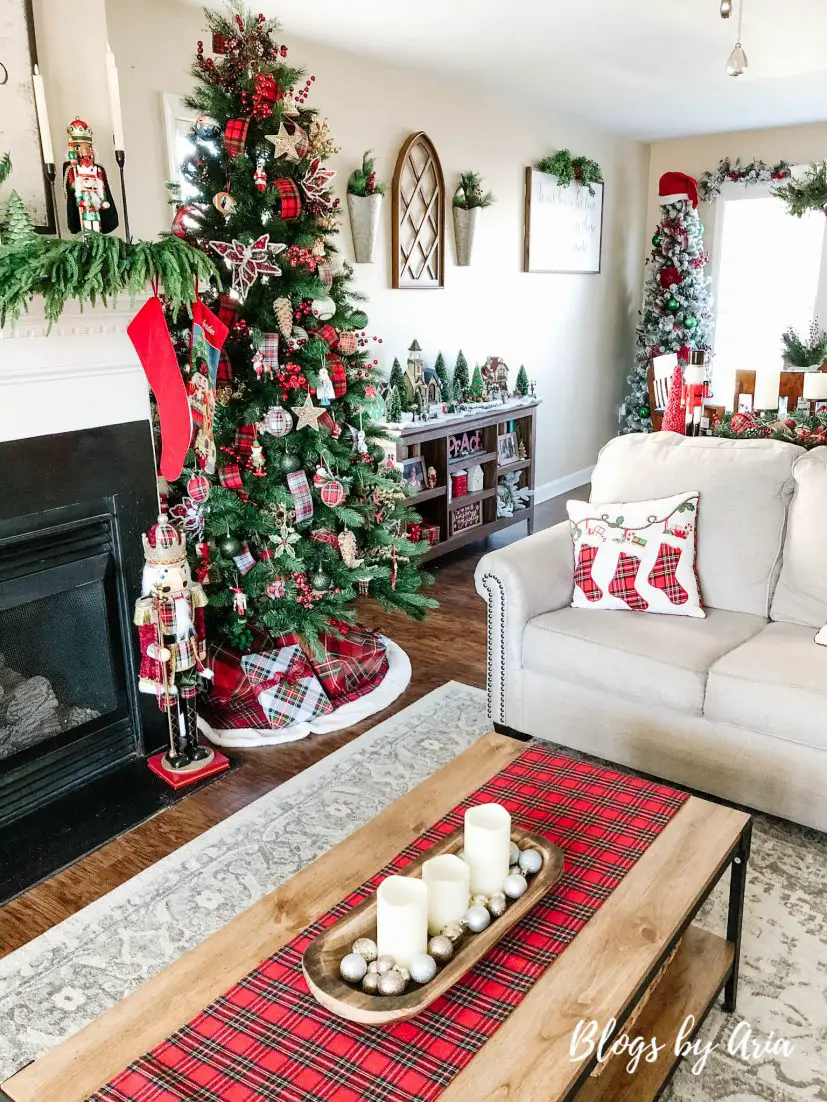 IMAGE SOURCE | CHRISTMAS.WONDERWORLD
IMAGE SOURCE | CHRISTMAS.WONDERLAND
IMAGE SOURCE | 2561FARMHOUSE
IMAGE SOURCE | BERRY.AND.ROSE
IMAGE SOURCE | THESASSYBARN
IMAGE SOURCE | BLESSEDONBLUEFINCH
IMAGE SOURCE | C.B._DESIGNS
IMAGE SOURCE | DAILY._.CHRISTMAS
IMAGE SOURCE | JOANNABRODNICKA
IMAGE SOURCE | MYFARMHOUSENEST
IMAGE SOURCE | JULEGLEDE
IMAGE SOURCE | BRAVOHOMESTEAD
IMAGE SOURCE | JUSTATINABIT
IMAGE SOURCE | JAMIRAYVINTAGE
IMAGE SOURCE | FASHION_SELF_EXPRESSION
IMAGE SOURCE | NANLINDY
IMAGE SOURCE | KINGLOSOUL
IMAGE SOURCE | RAISINGORION